Boston, MA—December 10, 2018
2018–2019 Scholar-Mentor honored
Long-time employment law expert honored
Every year, MCLE recognizes as Scholar-Mentors four outstanding individuals who have "raised the bar" through their career-long contributions to the continuing legal education of the bar and their exceptional service to the legal profession by volunteering their time and expertise to MCLE programs and publications. These awards are presented throughout the year at annual conferences or other programs in the practice areas relevant and meaningful to the recipients.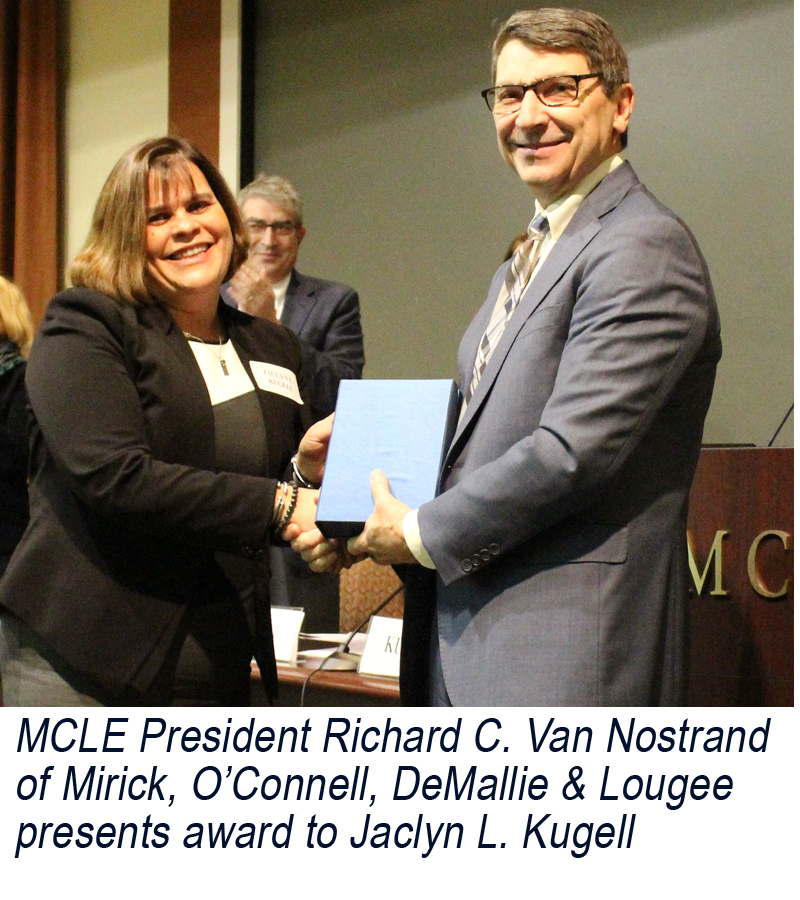 The second MCLE Scholar-Mentor award for the 2018–2019 year was presented to Jaclyn L. Kugell on Friday, December 7, 2018, in front of many friends and colleagues at the 21st Annual Employment Law Conference 2018. Jackie is the Chair of the Management Committee of Morgan, Brown & Joy LLP, where she represents and advises employers in all aspects of employment and labor law. A graduate of Brandeis University and Northeastern University School of Law, she is regularly recognized as a top lawyer in her practice area by many professional publications, is a frequent speaker at CLE programs, and serves on the faculty of several MCAD train-the-trainer and certification courses.
For MCLE, she has participated on nearly 50 employment law and litigation courses over the past 20 years—including as long-time co-chair of the popular annual Employment Law Conference—and is a contributing author on MCLE's flagship manual, Massachusetts Employment Law, and Employment Discrimination in Massachusetts.
For her leadership in the employment law bar and her dedication and commitment to CLE and the professional development of lawyers, Jackie joins J. W. Carney, Jr., as the first two recipients of MCLE's 2018–2019 Scholar-Mentor Awards. Please join us in thanking Jackie for her excellence and long-term service as an MCLE volunteer.
Stay tuned throughout the year for more Scholar-Mentor Award announcements.
For a list of previous award recipients, click here to visit MCLE's Volunteer Recognition page.
---