Divorce Law: MCLE BasicsPlus!®
An intensive workshop that includes ethical issues in family law!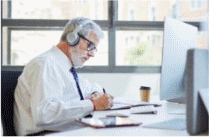 Product Number: 2180120PCD
Publication Date: 3/30/2018
Length: 12 Hours

CLE Credit Note

Copyright: © 2018 MCLE, Inc.

Add to Favorites List
Also Available:

See Agenda below to purchase individual video segments from this program.
Price per video: $50.00; Sponsor Members $45.00; New Lawyers $37.50

See eDemonstrations tab below.
Product Description
Agenda & Materials
eDemonstrations
Faculty
Product Description

Product Description

This comprehensive two-day course provides the family law practitioner with the fundamental skills and approaches necessary to effectively represent clients in divorce. Through a variety of lectures, demonstrations, and "hands-on" workshops, you gain the tools to become a proficient divorce law practitioner. First, our expert faculty provides you with the substantive knowledge to handle divorce work—an overview of the core concepts, statutes, cases, and procedural rules that govern divorce practice. Then you learn by "seeing and doing" in special focus groups where the faculty helps you develop the key skills that a new practitioner needs to master: conducting a client interview, preparing the client's financial statement, arguing a motion in court, and negotiating settlement. You'll walk away with a solid understanding of divorce law practice and the skills necessary to be successful. Don't miss this invaluable opportunity to get "hands-on" training and jumpstart your career!

Agenda

Agenda & Materials

9:30 – 9:40 a.m.

Welcome and Introduction

eLecture Add to Cart

Steven E. Gurdin, Esq., Fitch Law Partners LLP , Boston, Co-Chair


9:40 – 10:50 a.m

Establishing and Maintaining the Client Relationship;

eLecture Add to Cart

Substantive Law and Procedure;

Jurisdiction; Equitable Distribution;

Professionalism (civility) and ethics

Nancy G. O'Donnell, Esq., Rackemann, Sawyer & Brewster , Boston, Co-Chair


10:50 - 11:00 a.m.

Initial Review/Assessing the Case

eLecture Add to Cart

Kristine A. Cummings, Esq., Fitch Law Partners LLP , Boston


11:00 - 11:20 a.m.

Fee Agreements; Case Management/Fee Arrangements

eLecture Add to Cart

Steven E. Gurdin, Esq., Fitch Law Partners LLP , Boston, Co-Chair


11:20 – 11:35 a.m.

Networking and Refreshment Break

11:35 - 11:45 a.m.

ADR/Collaborative Law/Mediation

eLecture Add to Cart

Victoria C. Rothbaum, Esq., Harsip & Stuart, PC , Acton, Co-Chair


11:35 a.m. – 12:10 p.m

Contempts and Modifications

eLecture Add to Cart

Steven E. Gurdin, Esq., Fitch Law Partners LLP , Boston, Co-Chair


12:10 – 12:30 p.m.

12:30 – 1:35 p.m.

1:35 – 2:00 p.m.

Child Support Guidelines and Support Orders; Financial Statements: The Basics

eLecture Add to Cart

Kristine A. Cummings, Esq., Fitch Law Partners LLP , Boston


2:00 - 2:50 p.m.

Tax Issues:

eLecture Add to Cart

The Difference Between Child Support and Alimony;

1041 Transfers;

Dividing Assets

Steven E. Gurdin, Esq., Fitch Law Partners LLP , Boston, Co-Chair


2:30 - 2:40 p.m.

Pensions and Retirement

eLecture Add to Cart

Victoria C. Rothbaum, Esq., Harsip & Stuart, PC , Acton, Co-Chair


2:50 – 3:05 p.m.

Networking and Refreshment Break

3:05 – 4:00 p.m.

Do's and Don'ts on Financial Statements

eLecture Add to Cart

Steven E. Gurdin, Esq., Fitch Law Partners LLP , Boston, Co-Chair
Nancy G. O'Donnell, Esq., Rackemann, Sawyer & Brewster , Boston, Co-Chair
Victoria C. Rothbaum, Esq., Harsip & Stuart, PC , Acton, Co-Chair
Kristine A. Cummings, Esq., Fitch Law Partners LLP , Boston


4:00 – 4:30 p.m.

Day One Wrap-Up/Questions and Answers

9:30 – 9:35 a.m.

Welcome and Introduction

eLecture Add to Cart

Steven E. Gurdin, Esq., Fitch Law Partners LLP , Boston, Co-Chair


9:35 – 10:00 a.m.

Discovery

eLecture Add to Cart

Nancy G. O'Donnell, Esq., Rackemann, Sawyer & Brewster , Boston, Co-Chair


9:55 - 10:05 a.m.

10:05 – 10:50 a.m.

Ethical Issues for Family Law Practitioners

eLecture Add to Cart

John W. Marshall, Esq., Board of Bar Overseers, Commonwealth of Massachusetts


10:50 – 11:00 a.m.

Networking and Refreshment Break

11:00 – 11:30 a.m.

Working with the Probation Department of the Probate and Family Court

eLecture Add to Cart

Patrice O'Brien, Essex Probate and Family Court, Commonwealth of Massachusetts


11:30 a.m. – 12:00 p.m

12:00 – 1:00 p.m.

1:00 - 2:00 p.m.

Motion Practice; Temporary Orders

Victoria C. Rothbaum, Esq., Harsip & Stuart, PC , Acton, Co-Chair


2:00 – 2:15 p.m.

Motion Session Demonstration

eLecture Add to Cart

Nancy G. O'Donnell, Esq., Rackemann, Sawyer & Brewster , Boston, Co-Chair
Hon. John C. Stevens, III, LCP Law Group , Salem
Steven E. Gurdin, Esq., Fitch Law Partners LLP , Boston, Co-Chair
Victoria C. Rothbaum, Esq., Harsip & Stuart, PC , Acton, Co-Chair


Tips from the Bench on Motions Practice

eLecture Add to Cart

Hon. John C. Stevens, III, LCP Law Group , Salem


2:15 – 2:30 p.m.

2:30 – 2:45 p.m.

Networking and Refreshment Break

2:45 – 4:00 p.m.

Negotiation and Settlement

eLecture Add to Cart

Four-Way Negotiation Conference;

Corridor Negotiation;

Pretrial Conference;

Settlement Agreement

Nancy G. O'Donnell, Esq., Rackemann, Sawyer & Brewster , Boston, Co-Chair
Steven E. Gurdin, Esq., Fitch Law Partners LLP , Boston, Co-Chair


4:00 – 4:30 p.m.

Day Two Wrap-Up/Questions and Answers

Panel


eDemonstrations

Faculty