The Investigative Art of Digital Forensics
Finding and using the information hidden in electronic devices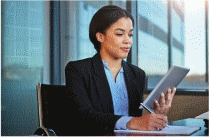 Product Number: 2190126WBC
CLE Credits, earn up to:
3 substantive credits, 0 ethics credits

CLE Credit Note

Add to Favorites List
Also Available:

Made to order; please allow up to 2 weeks for delivery.
No supporting materials included.
$135.00; Sponsor Members $121.50; New Lawyers $101.25

104 pages in 1 volume.
$105.00; Sponsor Members $94.50; New Lawyers $78.75

On demand video and audio recordings
Available for purchase after Wednesday, 3/27/2019 for instant access to this program.
Product Description
Agenda & Materials
Faculty
Pricing
Product Description

Product Description

Long gone are the days of viewing digital forensics as an exotic part of data collection. Lawyers today must be aware of the evidence available through digital forensics. Investigative digital forensics may be crucial to your case or the protection of your client's assets. They provide capability to detect malfeasance, to support or refute alibis, to show assent, consent or intent, to prove the integrity and authenticity of records, to best remediate breaches and vulnerabilities, and to ensure compliance with burgeoning data privacy and security regulations.

Knowing what to look for, when and where in a company's computer network, applications and local or cloud storage and in its employees' "bring-your-own-devices," is essential for protecting its value. Understanding how—digital recovery and enhancement, "predictive coding" to parse millions of emails into relevant sets, procedures to ensure admissibility in court and administrative tribunals—is required to maintain parity with contemporary adversaries.

Our panel of experts survey digital forensic investigation and share their experience and visions for the near future. They provide practical suggestions to help you get started and to advance your ability to represent your clients competently as required by current ethical rules. Don't leave evidence out there that you could use to win your next case!

Agenda

Agenda & Materials

Overview of Data Privacy and Security and Their Relevance

Where to Start: Keeping the Evidence Safe

Gathering Evidence: Keeping your Findings Admissible

Ethical Pitfalls: Where and How You Can Look

"Ask the Experts" Q&A Session

Please Note

MCLE webcasts are delivered completely online, underscoring their convenience and appeal. There are no published print materials. All written materials are available electronically only. They are posted 24 hours prior to the program and can be accessed, downloaded, or printed from your computer.

Faculty

Pricing

Fees

$220.50 - MCLE Sponsor Member
$183.75 - New Lawyer
$183.75 - Pending Admittee
$183.75 - Law Student
$183.75 - Paralegal
$245.00 - All Others

Available FREE with an MCLE OnlinePass® subscription.