The Interactive Process Under the ADA
Understanding the informal process—legal rights and obligations under the disability employment laws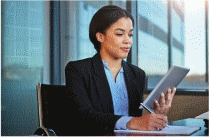 Product Number: 2190138WBC
CLE Credits, earn up to:
3 substantive credits, 0 ethics credits

CLE Credit Note

Add to Favorites List
Also Available:

Made to order; please allow up to 2 weeks for delivery.
No supporting materials included.
$135.00; Sponsor Members $121.50; New Lawyers $101.25

pages in 1 volume.
$105.00; Sponsor Members $94.50; New Lawyers $78.75

On demand video and audio recordings
Available for purchase after Thursday, 2/28/2019 for instant access to this program.
Product Description
Agenda & Materials
Faculty
Pricing
Product Description

Product Description

Counsel for employers and employees with disabilities agree that the interactive process is a critically important legal obligation their clients must navigate. At the same time, sometimes attorneys and their clients are not completely sure of how to best initiate, implement, and conclude this process. This new program provides an overview of the relevant principles of reasonable accommodation law and explains the best ways to use the informal interactive process. Veteran employment attorneys also explain how to avoid potential errors that could weaken or forfeit your client's claims or defenses. Watch the faculty bring the law to life via lively, interactive role plays and constructive critique of a mock interactive process. Bring your questions!

Agenda

Agenda & Materials

2:00 - 2:05 pm

Welcome and Introduction

Stanley J. Eichner, Esq., Disability Law Center, Inc. , Boston, Chair


2:05 - 2:35 pm

Fundamental Principles of RA law; Interactive Process and How it Fits within Rights and Obligations under the Disability Employment Law

Stanley J. Eichner, Esq., Disability Law Center, Inc. , Boston, Chair


2:35 - 2:55 pm

Role Play - Job Applicant with a Sleep Disorder Applying for a Retail Position, seeking that a 9 am interview be re-scheduled due to her disability

2:55 - 3:30 pm

Interview Format: Ellen and Beth Share their Practical Tips and Suggestions on Two Issues

1) Participants at informal interactive process - who can/should participate? 2) What are the types of information that can/should be available as part of the interactive process?

Panel


3:30 - 3:45 pm

Networking and Refreshment Break

3:45 - 3:55 pm

Interview Format: The Moderator asks Ellen and Beth their Strategic Ideas Concerning the Issue: How Employee's Health Care Provider Can Play a Helpful or Not a Helpful Role?

Panel


3:55 - 4:40 pm

Role Play

Incumbent worker has the position of a social worker/caseworker at a non-profit healthcare provider. An essential function of her position is to conduct home visits. She has developed a visual impairment and can no longer drive a car. She's seeking a RA because she can no longer afford paying for her own cab/Uber and a friend told her "the law requires the employer to pay for those kind of things."

Panel


4:40 - 5:00 pm

"Ask the Experts" Q&A Session and Key Takeaways

Panel


Please Note

MCLE webcasts are delivered completely online, underscoring their convenience and appeal. There are no published print materials. All written materials are available electronically only. They are posted 24 hours prior to the program and can be accessed, downloaded, or printed from your computer.

Faculty

Pricing

Fees

$220.50 - MCLE Sponsor Member
$183.75 - New Lawyer
$183.75 - Pending Admittee
$183.75 - Law Student
$183.75 - Paralegal
$245.00 - All Others

Available FREE with an MCLE OnlinePass® subscription.