Cultivating Referrals & Developing Your Network
Grow your revenue in a systematic way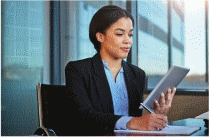 Product Number: 2190172WBC
CLE Credits, earn up to:
3 substantive credits, 0 ethics credits

CLE Credit Note

Add to Favorites List
Also Available:

Made to order; please allow up to 2 weeks for delivery.
No supporting materials included.
$125.00; Sponsor Members $112.50; New Lawyers $93.75

pages in 1 volume.
$105.00; Sponsor Members $94.50; New Lawyers $78.75

On demand video and audio recordings
Available for purchase after Tuesday, 4/9/2019 for instant access to this program.
Product Description
Agenda & Materials
Faculty
Pricing
Product Description

Product Description

Marketing a modern law firm is a whole new ballgame. Consumers are pickier than ever before, and have more choices than ever before. Lawyers have traditionally relied on networking and personal referrals to drive business, but the way those channels are best accessed has changed. This concentrated and thorough program offers a lively and detailed discussion of the many ways that law firms can reconstruct traditional marketing tactics for the social media age.

This program helps you to take your networking game up a notch. Experienced practitioners with proven business marketing chops walk you through the steps you need to take and the moves you need to make to supplement traditional networking and referral building tactics with new-school concepts like content marketing, lawyer profile services, Slack channels, branded networks, and social media.

Attend, and get all the information you need to market your law firm in an effective and ethical fashion. If you want to keep doing what has worked in marketing your practice, while also opening up your marketing to non-traditional avenues, we've got you covered.

Agenda

Agenda & Materials

Making the Most Out of Traditional Networking

The Continuing Value of Referral Marketing

Building an Online Referral Network

Creating an Online Presence

Leveraging Content Marketing

Being Social, Online and Offline

Ethical Issues for Lawyer Advertising and Referrals

"Ask the Experts" Q&A Session

Please Note

MCLE webcasts are delivered completely online, underscoring their convenience and appeal. There are no published print materials. All written materials are available electronically only. They are posted 24 hours prior to the program and can be accessed, downloaded, or printed from your computer.

Faculty

Pricing

Fees

$112.50 - MCLE Sponsor Member
$93.75 - New Lawyer
$93.75 - Pending Admittee
$93.75 - Law Student
$93.75 - Paralegal
$125.00 - All Others

Available FREE with an MCLE OnlinePass® subscription.