How New Attorneys Enter the Practice: Hanging Your Shingle
Practical advice so you can confidently begin the practice of law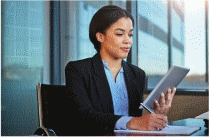 Product Number: 2190173RBC
CLE Credits, earn up to:
3 substantive credits, 0 ethics credits

CLE Credit Note

Add to Favorites List
Also Available:

Made to order; please allow up to 2 weeks for delivery.
No supporting materials included.
$125.00; Sponsor Members $112.50; New Lawyers $93.75

On demand video and audio recordings
Available for purchase after Tuesday, 2/26/2019 for instant access to this program.
Product Description
Agenda & Materials
Faculty
Pricing
Product Description

Product Description

Starting a law practice is exciting, demanding, and rewarding. MCLE's Hanging Your Shingle series is an unparalleled opportunity to learn how to avoid pitfalls and take charge of your career. This concentrated and thorough program offers a conversational environment that provides a unique chance to learn how to run your own law practice.

This program focuses on the newly minted attorney and features experts providing instruction and guidance on how to successfully open one's own law practice, including setting up your own business, formulating an effective business plan, tax planning, billing and avoiding malpractice. The program gives you the information you need to become a successful and ethical lawyer-entrepreneur. Whether you know you want to establish your own firm or you are just "testing the waters", this is the workshop for you.

Agenda

Agenda & Materials

2:00 - 2:05 pm

2:05 - 2:30 pm

Knowing Yourself and Defining Your Practice

Panel


2:30 - 3:15 pm

Setting Up Your Law Firm as a Business

Panel


3:15 - 3:30 pm

Networking and Refreshment Break

3:30 - 4:00 pm

Computers, Technology, and Software

Panel


4:00 - 4:15 pm

Marketing Ideas: Client Development and Networking

Susan Letterman White, JD, MS, Massachusetts Law Office Management Assistance Program (LOMAP) , Boston


4:15 - 4:30 pm

4:30 - 5:00 pm

"Ask the Experts" Q&A Session

Panel


Special Program Materials:

Please Note

MCLE webcasts are delivered completely online, underscoring their convenience and appeal. There are no published print materials. All written materials are available electronically only. They are posted 24 hours prior to the program and can be accessed, downloaded, or printed from your computer.

Faculty

Pricing

Fees

$112.50 - MCLE Sponsor Member
$93.75 - New Lawyer
$93.75 - Pending Admittee
$93.75 - Law Student
$93.75 - Paralegal
$125.00 - All Others

Available FREE with an MCLE OnlinePass® subscription.