Optimize Your Practice with Cloud Computing: Tech2Practice
Discover the fullest extent of the capabilities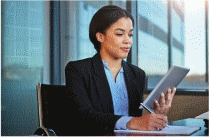 Product Number: 2190174WBC
CLE Credits, earn up to:
2 substantive credits, 0 ethics credits

CLE Credit Note

Add to Favorites List
Also Available:

Made to order; please allow up to 2 weeks for delivery.
No supporting materials included.
$125.00; Sponsor Members $112.50; New Lawyers $93.75

On demand video and audio recordings
Available for purchase after Wednesday, 3/20/2019 for instant access to this program.
Product Description
Agenda & Materials
Faculty
Pricing
Product Description

Product Description

Tech2Practice is an innovative series of robust practice development programs designed to assist your law practice by boosting your efficiency through the utilization of technology in practical and creative ways.

The future is now! Your duty to keep abreast of the risks and benefits of technology means understanding cloud technology. Plus, nearly every state that has opined on the use of the cloud in practice has said it is permissible as long as you take reasonable precautions. Come to this program to learn about the benefits of practice in the cloud, migrating your data to the cloud, and implementing reasonable precautions to secure your data.

Uncover the potential of cloud technology for your practice, reduce your dependence on paper products, become better organized and more streamlined, and see your law practice flourish!

Agenda

Agenda & Materials

Understanding Cloud Technology

The Risks and Precautions You Must and Should Take

Organize Your Digital Case Files Without Confusion

Accessibility Benefits of Cloud Technology

Ethically Store, Collaborate, and Share Documents

Getting Started: Data Migration

"Ask the Experts" Q&A Session

Please Note

MCLE webcasts are delivered completely online, underscoring their convenience and appeal. There are no published print materials. All written materials are available electronically only. They are posted 24 hours prior to the program and can be accessed, downloaded, or printed from your computer.

Faculty

Pricing

Fees

$112.50 - MCLE Sponsor Member
$93.75 - New Lawyer
$93.75 - Pending Admittee
$93.75 - Law Student
$93.75 - Paralegal
$125.00 - All Others

Available FREE with an MCLE OnlinePass® subscription.