Making Your Website ADA Compliant: Tech2Practice
An accessible website for an affordable price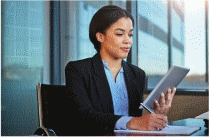 Product Number: 2190330RBC
CLE Credits, earn up to:
2 substantive credits, 0 ethics credits

CLE Credit Note

Add to Favorites List
Also Available:

Made to order; please allow up to 2 weeks for delivery.
No supporting materials included.
$125.00; Sponsor Members $112.50; New Lawyers $93.75

On demand video and audio recordings
Available for purchase after Tuesday, 7/16/2019 for instant access to this program.
Product Description
Agenda & Materials
Faculty
Pricing
Product Description

Product Description

Tech2Practice is an innovative series of robust practice development programs designed to assist your law practice by boosting your efficiency through the utilization of technology in practical and creative ways. This program is deliberately and meticulously crafted to suit the needs of all lawyers regardless of their area of practice.

When it comes to your law firm's website, there are a lot of questions, but one thing is sure: the site must be ADA compliant. You want a website that is accessible to as many people as possible, but trying to set up your site before you know what you should do can result in expensive fixes. Our expert faculty guides you through the mine field that is ADA compliance, helping you to make a website that is accessible to all. The experts show you what works and what doesn't.

This program features practice management experts who provide the framework for you to make your website ADA compliant to better serve all your clients.

Agenda

Agenda & Materials

12:00 pm - 12:05 pm

12:05 pm - 12:20 pm

What Makes an ADA Compliant Law Firm Website

12:20 pm - 12:35 pm

What Does "Meaningful Access" Mean

12:35 pm - 12:50 pm

Dropdowns, Separate Websites, and Other No-No's

12:50 pm - 1:05 pm

Web Content Accessibility Guidelines 2.0 and Your Website

1:05 pm - 1:20 pm

Costs and How Small Firms Can Cope

1:05 pm - 1:20 pm

Ten Questions to Ask Your Web Developer

Panel


1:50 pm - 2:00 pm

"Ask the Experts" Q&A Session

Please Note

MCLE webcasts are delivered completely online, underscoring their convenience and appeal. There are no published print materials. All written materials are available electronically only. They are posted 24 hours prior to the program and can be accessed, downloaded, or printed from your computer.

Faculty

Pricing

Fees

$112.50 - MCLE Sponsor Member
$93.75 - New Lawyer
$93.75 - Pending Admittee
$93.75 - Law Student
$93.75 - Paralegal
$125.00 - All Others

Available FREE with an MCLE OnlinePass® subscription.
TOP