Finding a Home for Your Practice—Leasing, Sharing Space & Working from Home: Hanging Your Shingle
Practical advice for where to hang your shingle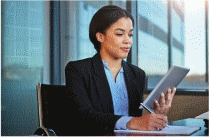 Product Number: 2190331WBC
CLE Credits, earn up to:
3 substantive credits, 0 ethics credits

CLE Credit Note

Add to Favorites List
Also Available:

Made to order; please allow up to 2 weeks for delivery.
No supporting materials included.
$165.00; Sponsor Members $148.50; New Lawyers $123.75

On demand video and audio recordings
Available for purchase after Tuesday, 5/14/2019 for instant access to this program.
Product Description
Agenda & Materials
Faculty
Pricing
Product Description

Product Description

Starting a law practice is exciting, demanding, and rewarding. MCLE's Hanging Your Shingle series is an unparalleled opportunity to learn how to avoid pitfalls and take charge of your career. This concentrated and thorough program offers a conversational environment that offers a unique chance to learn how to run your own law practice.

When the newly minted attorney considers starting a practice the focus tends to be on "how" as opposed to "where." Our expert panel provides instruction and guidance for leasing, sharing space, and working from home. They offer helpful advice to guide you: what questions to ask in each situation and how the focus of your practice can affect your decision. They give you the knowledge you need to avoid the pitfalls of each option. The program gives you the information you need to determine which option will make you a successful lawyer-entrepreneur, practicing in the place most practical for you!

Agenda

Agenda & Materials

2:00 - 2:10 pm

2:10 - 2:30 pm

Is Hanging Your Shingle Right for You?

2:30 - 3:20 pm

3:20 - 3:30 pm

Networking and Refreshment Break

3:30 - 4:00 pm

4:00 - 4:30 pm

4:30 -4:40 pm

4:40 - 5:00 pm

"Ask the Experts" Q&A Session

Panel


Special Program Materials:

Please Note

MCLE webcasts are delivered completely online, underscoring their convenience and appeal. There are no published print materials. All written materials are available electronically only. They are posted 24 hours prior to the program and can be accessed, downloaded, or printed from your computer.

Faculty

Pricing

Fees

$112.50 - MCLE Sponsor Member
$93.75 - New Lawyer
$93.75 - Pending Admittee
$93.75 - Law Student
$93.75 - Paralegal
$125.00 - All Others

Available FREE with an MCLE OnlinePass® subscription.
TOP