Win (& Avoid Losing) Cases by Exploiting Social Media & Utilizing the Internet
Practical tips and emerging strategies for mining and using online evidence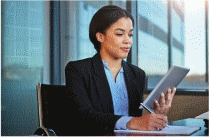 Product Number: 2200029WBC
CLE Credits, earn up to:
3 substantive credits, 0 ethics credits

CLE Credit Note

Add to Favorites List
Also Available:

Made to order; please allow up to 2 weeks for delivery.
No supporting materials included.
$165.00; Sponsor Members $148.50; New Lawyers $123.75

On demand video and audio recordings
Available for purchase after Thursday, 10/3/2019 for instant access to this program.
Product Description
Agenda & Materials
Faculty
Pricing
Product Description

Product Description

There are tremendous amounts of online evidence, including on social media sites that can make or break any case. And that information can disappear quickly. This program gives you practical ideas about how you can use public information during informal discovery as well as in formal discovery, fact investigation, witness preparation, and jury selection. The expert panel also discusses why you should search publicly available information about your own clients and witnesses to avoid surprises.

In addition, the panel discusses the tricky ethical rules emerging in this important area. This program provides many examples, lists of available sites, and practical suggestions about organizing and analyzing the data. Don't leave evidence out there that you could use to win your next case!

Agenda

Agenda & Materials

Discovery of Social Media and Other Internet Evidence

Technical Advice about Retrieving Online Evidence in a Way That Is Admissible

Introducing Social Media at Trial

"Ask the Experts" Q&A Session

Please Note

MCLE webcasts are delivered completely online, underscoring their convenience and appeal. There are no published print materials. All written materials are available electronically only. They are posted 24 hours prior to the program and can be accessed, downloaded, or printed from your computer.

Faculty

Pricing

Fees

$220.50 - MCLE Sponsor Member
$183.75 - New Lawyer
$183.75 - Pending Admittee
$183.75 - Law Student
$183.75 - Paralegal
$245.00 - All Others

Available FREE with an MCLE OnlinePass® subscription.
TOP