Complex Issues in Assets Division
Decipher the numbers!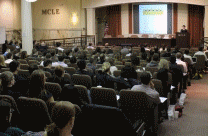 Product Number: 2200075P01
CLE Credits, earn up to:
4 substantive credits, 0 ethics credits

CLE Credit Note

Add to Favorites List
Also Available:

Made to order; please allow up to 2 weeks for delivery.
No supporting materials included.
$165.00; Sponsor Members $148.50; New Lawyers $123.75

On demand video and audio recordings
Available for purchase after Wednesday, 10/2/2019 for instant access to this program.
Product Description
Agenda & Materials
Faculty
Pricing
Product Description

Product Description

In many divorce cases, an advanced degree in mathematics seems necessary to effectively advocate on behalf of a client. The valuation and division of complex assets such as closely held businesses, trust interests and stock options, and restricted stock and other equity compensation can be challenging and intimidating. Tax consequences need to be identified and brought to the Court's attention. Clients need to be educated on what they can and cannot expect to receive by way of assets in their divorce judgment. The potential for missteps is ever present.

Don't let the numbers intimidate you! Learn from an expert faculty and acquire the knowledge you need to sort out sophisticated issues of asset division in your next divorce case.

Agenda

Agenda & Materials

Overview of Business Valuation Principles and Applicable Case Law Regarding the Division of Closely Held Businesses

Valuation and Division of Different Forms of Equity Compensation: Stock Options, Restricted Stock, and RSUs

Discussion of the "Must Read" Cases

Equitable Division of Trust Interests, Inheritances, Expectancies and How to Value Them

How to Identify and Present Tax Consequences of Asset Division

Dividing Assets Fairly: How to Avoid Traps and Pitfalls

"Ask the Experts" Q&A Session

Special Program Materials:

Please Note

MCLE webcasts are delivered completely online, underscoring their convenience and appeal. There are no published print materials. All written materials are available electronically only. They are posted 24 hours prior to the program and can be accessed, downloaded, or printed from your computer.

Faculty

Pricing

Fees

$202.50 - MCLE Sponsor Member
$168.75 - New Lawyer
$168.75 - Pending Admittee
$168.75 - Law Student
$168.75 - Paralegal
$225.00 - All Others
TOP