Workplace Investigations: The 60-Minute Lawyer
How to conduct and scrutinize investigations of employee complaints of discrimination, sexual harassment, or other workplace misconduct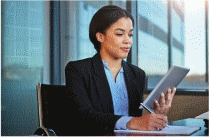 Product Number: 2200085WBC
CLE Credits, earn up to:
1 substantive credits, 0 ethics credits

CLE Credit Note

Add to Favorites List
Also Available:

Made to order; please allow up to 2 weeks for delivery.
No supporting materials included.
$125.00; Sponsor Members $112.50; New Lawyers $93.75

On demand video and audio recordings
Available for purchase after Tuesday, 10/29/2019 for instant access to this program.
Product Description
Agenda & Materials
Faculty
Pricing
Product Description

Product Description

In this era of #metoo, recognition of sexual orientation and gender identity rights, and general awareness of various workplace issues, many employers face complaints from employees that need to be addressed promptly, effectively, and correctly. The process starts with an investigation, often by outside counsel. Knowing how to handle and analyze an investigation appropriately and efficiently is critical—whether you are managing the investigation or questioning its manner of execution. Get practice tips on conducting workplace investigations that minimize employer exposure to liability and effectively address employee concerns—as well as insight on how to efficiently identify investigation missteps. The faculty highlight key decision points and considerations, best practices, pitfalls to avoid, guidance on remedying any issues identified, and how to identify problems in an investigation.

Agenda

Agenda & Materials

Formulating and Analyzing the Plan: Defining Strategy, Scope and Goals

Gathering Background Information and Documents

Best Practices for Conducting and Scrutinizing Witness Interviews

Preparation of the Report

Considerations for Recommendations and Remediation

Ethical and Confidentiality Issues—and Other Issues to Note

Please Note

MCLE webcasts are delivered completely online, underscoring their convenience and appeal. There are no published print materials. All written materials are available electronically only. They are posted 24 hours prior to the program and can be accessed, downloaded, or printed from your computer.

Faculty

Pricing

Fees

$112.50 - MCLE Sponsor Member
$93.75 - New Lawyer
$93.75 - Pending Admittee
$93.75 - Law Student
$93.75 - Paralegal
$125.00 - All Others

Available FREE with an MCLE OnlinePass® subscription.
TOP