How to Handle a Data Security Incident or Breach
Understand the resources available to and the responsibilities of lawyers, compliance professionals and their clients in the Massachusetts context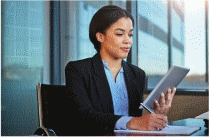 Product Number: 2220099RBC
CLE Credits, earn up to:
3 substantive credits, 0 ethics credits

CLE Credit Note

Add to Favorites List

Remind Me Later

ⓘ

Sign up to receive a reminder one week prior to program.
Interested in How to Handle a Data Security Incident or Breach but not sure you can make it?
Sign up to receive an automatic reminder one week before the program date.
Email
No Thanks.Submit
Product Description
Agenda & Materials
Faculty
Pricing
Product Description

Product Description


It has been eighteen years since California enacted the first anti-identity theft data breach law, and twelve years since Massachusetts enacted its own and promulgated information security regulations. Meanwhile, all the states have enacted at least data breach reporting laws. Although Congress has not acted to put in place security standards—much less privacy standards—for interstate commerce, each day we learn of a few of the countless "incidents" of common error data compromise along with "cyber-attacks" that demand bitcoin ransoms to resume personal, municipal, and infrastructure operation.

Join us for a review of and update on the resources available to and the responsibilities of lawyers, compliance professionals, and their clients in the Massachusetts context that increasingly includes federal and international considerations. Learn about the new wave of "data protection" statutes that recognize data subject rights regarding personal information about them, however acquired—including aspects of privacy and security.

Agenda

Agenda & Materials

Recognizing Threats to Data Security

Mitigating and Dealing with Day-to-Day Issues

How to Respond to Common Incidents, Including Ransomware

How to Work with Cybersecurity Professionals, Including Attorneys and Privilege Issues

How to Work with Government Agencies

New Responsibilities in View of New Data Protection (Fair Information Practices)

"Ask the Experts" Q&A Session and Key Takeaways

Special Program Materials:

Please Note

MCLE webcasts are delivered completely online, underscoring their convenience and appeal. There are no published print materials. All written materials are available electronically only. They are posted 24 hours prior to the program and can be accessed, downloaded, or printed from your computer.

Faculty

Pricing

Fees

$220.50 - MCLE Sponsor Member
$183.75 - New Lawyer
$183.75 - Pending Admittee
$183.75 - Law Student
$183.75 - Paralegal
$245.00 - All Others

To apply for a need-based scholarship for this program, email

scholarships@mcle.org

.

Available FREE with an MCLE OnlinePass® subscription.
TOP