Locating People, Property & Assets
Strategies and forensics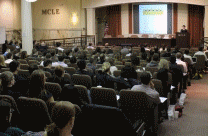 Product Number: 2220101P01
CLE Credits, earn up to:
1 substantive credits, 0 ethics credits

CLE Credit Note

Add to Favorites List

Remind Me Later

ⓘ

Sign up to receive a reminder one week prior to program.
Interested in Locating People, Property & Assets but not sure you can make it?
Sign up to receive an automatic reminder one week before the program date.
Email
No Thanks.Submit
Product Description
Agenda & Materials
Faculty
Pricing
Product Description

Product Description


Clients and other parties are not always forthcoming about disclosing assets, such as bank accounts, investment accounts, property, or corporate entities—especially when facing adversities such as being confronted with an unfavorable judgment, probate matters, divorce, or payments for alimony or child support. As counsel, you are often expected to advise and resolve. But what do you do when you can't find the party and/or their assets, or you suspect assets are being hidden? Hear from a private investigator, a forensic accountant, and computer forensics expert on how to find both the people and the assets.

Agenda

Agenda & Materials

When and How to Seek the Assistance of a Private Investigator, Forensic Accountant or Computer Forensics Expert

How to Communicate and Set Client Expectations

How You as Counsel Can Help the Private Investigator, Forensic Accountant or Computer Forensic Expert Help You

How to Identify When Bank Accounts or Investment Accounts May Be Missing

Steps to Take for When and How to Use Computer Forensics

Identifying and Locating Funds Moved to Hidden Accounts

Tips for Discovering Hidden Property

Please Note

MCLE webcasts are delivered completely online, underscoring their convenience and appeal. There are no published print materials. All written materials are available electronically only. They are posted 24 hours prior to the program and can be accessed, downloaded, or printed from your computer.

Faculty

Pricing

Fees

$130.50 - MCLE Sponsor Member
$108.75 - New Lawyer
$108.75 - Pending Admittee
$108.75 - Law Student
$108.75 - Paralegal
$145.00 - All Others

To apply for a need-based scholarship for this program, email

scholarships@mcle.org

.
TOP