Latest Techniques for Middle-Class Estates
Go beyond the simple estate plan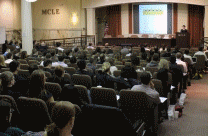 Product Number: 2220123P01
CLE Credits, earn up to:
4 substantive credits, 0 ethics credits

CLE Credit Note

Add to Favorites List

Remind Me Later

ⓘ

Sign up to receive a reminder one week prior to program.
Interested in Latest Techniques for Middle-Class Estates but not sure you can make it?
Sign up to receive an automatic reminder one week before the program date.
Email
No Thanks.Submit
Product Description
Agenda & Materials
Faculty
Pricing
Product Description

Product Description


Many estate planners find middle-class estates to be challenging. The category often encompasses a broad and disparate range of individuals, including young families with children, younger individuals with emerging wealth, recent empty-nesters, and elderly individuals concerned about long-term care. Each of these groups requires a different approach to estate planning. This program focuses on identifying the specific needs of the most common categories of the middle-class estate and details the key estate planning strategies that best serve those needs.

Learn how to skillfully craft an estate plan tailored to your client's individual situation, while utilizing the latest in tax minimization and asset protection strategies. You also get an in-depth look at how to add value and form a relationship with your clients that transcends the "one-off" nature of common approaches to middle-class estate planning. You emerge with expert tools and a deep understanding of the key issues facing your clients.

Agenda

Agenda & Materials

Thinking Beyond the Basic Estate Plan

Why the Foundation Is Important and Why You Should Not Stop There

Estate Planning Strategies for Young Families and Individuals with Emerging Wealth

Tax Minimization Techniques

Planning for the Massachusetts Estate Tax, Working with Portability, and Utilizing the Generation-Skipping Transfer Tax Exemption

Retirement Assets

How to Ensure Tax Efficiency and Asset Protection in the Estate Plan

Planning with Life Insurance and Long-Term Care Asset Protection Planning

Working with the Elderly Client and Protecting Assets from the Cost of Long-Term Care

Recent Updates in Asset Protection Planning for Massachusetts Trusts and Massachusetts Taxation of Out-of-State Property

Adding Value and Forming Ongoing Relationships with Clients "Ask the Experts" Q&A Session

"Ask the Experts" Q&A Session and Key Takeaways

Please Note

MCLE webcasts are delivered completely online, underscoring their convenience and appeal. There are no published print materials. All written materials are available electronically only. They are posted 24 hours prior to the program and can be accessed, downloaded, or printed from your computer.

Faculty

Pricing

Fees

$220.50 - MCLE Sponsor Member
$183.75 - New Lawyer
$183.75 - Pending Admittee
$183.75 - Law Student
$183.75 - Paralegal
$245.00 - All Others

To apply for a need-based scholarship for this program, email

scholarships@mcle.org

.
TOP