Understanding & Using Trusts: MCLE BasicsPlus!®
A thorough foundation in every aspect of the trust process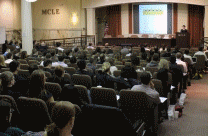 Product Number: 2220125P01
CLE Credits, earn up to:
6 substantive credits, 0 ethics credits

CLE Credit Note

Add to Favorites List

Remind Me Later

ⓘ

Sign up to receive a reminder one week prior to program.
Interested in Understanding & Using Trusts: MCLE BasicsPlus!® but not sure you can make it?
Sign up to receive an automatic reminder one week before the program date.
Email
No Thanks.Submit
Product Description
Agenda & Materials
Faculty
Pricing
Product Description

Product Description

Every estate planner knows that trusts are an essential and widely used estate planning tool, but not all estate planners have the in-depth understanding of trusts they really need in order to serve their clients effectively. A thorough understanding of trust formation and administration is critical across many areas of specialization, including tax, real estate, finance, litigation, elder law, and nonprofit law. It is equally important when advising clients to understand the technical rules governing trusts and how Massachusetts statutes and common law may affect both trustees and beneficial interest holders.

Experts guide you step-by-step through the life of a trust, from beginning the trust to ongoing administration to wrapping up. They analyze the latest updates and provide valuable advice on key, cutting-edge issues. You leave with a thorough overview of how trusts work and how to use them to achieve your clients' goals.

Agenda

Agenda & Materials

9:30 - 9:35 am

9:35 - 10:10 am

Introduction and Basic Estate Planning

Probate vs non-probate property
Intervivos vs testamentary
Family Issues, dispositive and non-tax aspects
Transfer tax vs income tax issues

Caroline Brooks, Esq., John Hancock , Boston


10:10 - 10:50 am

Transfer Taxes

Gift tax
Estate tax
GST tax

10:50 - 11:05 am

Networking and Refreshment Break

11:05 - 11:35 am

Introduction to Trusts

What is a trust
Choice of Trustee
Funded vs unfunded revocable trusts

Caroline Brooks, Esq., John Hancock , Boston


11:35 - 12:05 pm

More Basics About Trusts

Fiduciary Responsibility
Fiduciary Liability
Ethical Issues

12:05 - 1:05 pm

1:05 - 1:40 pm

Martial Deduction Planning

Requirements for martial deduction
Administering a martial trust

1:40 - 2:15 pm

Funding Trusts

Intervivos vs testamentary
Splitting Trusts at Death

2:15 - 2:45 pm

Distributions from Trusts

Settlor's Intent
Determining Beneficiaries
Mandatory vs Dscretionary

2:45 - 3:00 pm

Networking and Refreshment Break

3:00 - 3:35 pm

Charitable Trusts

Intervivos vs testamentary
Income & estate tax advantages
Splitting trusts at death

3:35 - 4:00 pm

The Alphabet Soup of Other Trusts

Brief description of GRATs, LATs, IDGTs
Income and estate tax advantages & disadvantages

4:00 - 4:30 pm

Medicaid Planning & Elder Law Issue Spotting

Please Note

MCLE webcasts are delivered completely online, underscoring their convenience and appeal. There are no published print materials. All written materials are available electronically only. They are posted 24 hours prior to the program and can be accessed, downloaded, or printed from your computer.

Faculty

Pricing

Fees

$220.50 - MCLE Sponsor Member
$183.75 - New Lawyer
$183.75 - Pending Admittee
$183.75 - Law Student
$183.75 - Paralegal
$245.00 - All Others

To apply for a need-based scholarship for this program, email

scholarships@mcle.org

.
TOP