Cybersecurity Insurance
Scope of policies, typical exclusions and mitigation measures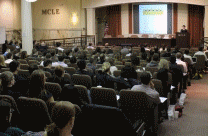 Product Number: 2230005P01
CLE Credits, earn up to:
1 substantive credits, 0 ethics credits

CLE Credit Note

Add to Favorites List

Remind Me Later

ⓘ

Sign up to receive a reminder one week prior to program.
Interested in Cybersecurity Insurance but not sure you can make it?
Sign up to receive an automatic reminder one week before the program date.
Email
No Thanks.Submit
Product Description
Agenda & Materials
Faculty
Pricing
Product Description

Product Description


As the daily news headlines around the world continue to fill with reports of ransomware attacks, cryptocurrency exploits, and data breaches of all sorts, lawyers must prepare to counsel their clients through the intricate web of cybersecurity insurance questions. This fast-paced webcast explains the types of insurance available, the steps lawyers should advise businesses to take to manage their cyber risk profile, and the issues purchasers of cyber insurance should consider. The expert speaker uses case scenarios and hypotheticals to bring these important issues to life.

Agenda

Agenda & Materials

Overview of Cybersecurity Insurance

Scope of Different Cybersecurity Insurance Policies

Typical Cybersecurity Insurance Exclusions

Effective Measures for Mitigating Cybersecurity Risk Profiles

Best Practices in Preparing for a Cybersecurity Event

Please Note

MCLE webcasts are delivered completely online, underscoring their convenience and appeal. There are no published print materials. All written materials are available electronically only. They are posted 24 hours prior to the program and can be accessed, downloaded, or printed from your computer.

Faculty

Pricing

Fees

$130.50 - MCLE Sponsor Member
$72.50 - New Lawyer
$72.50 - Pending Admittee
$72.50 - Law Student
$72.50 - Paralegal
$145.00 - All Others

To apply for a need-based scholarship for this program, email

scholarships@mcle.org

.
TOP