Drug Cases: Briefings & eBook Bundle
2 webcast programs and a value-added companion eBook for core fluency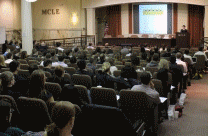 Product Number: 2230047P01
CLE Credits, earn up to:
5 substantive credits, 0 ethics credits

CLE Credit Note

Add to Favorites List

Remind Me Later

ⓘ

Sign up to receive a reminder one week prior to program.
Interested in Drug Cases: Briefings & eBook Bundle but not sure you can make it?
Sign up to receive an automatic reminder one week before the program date.
Email
No Thanks.Submit
Also Available:

Related eLectures & eDemonstrations
See Agenda below to purchase individual video segments from this program.
Price per video: $65.00; Sponsor Members $58.50; New Lawyers $32.50
Product Description
Agenda & Materials
Faculty
Pricing
Product Description

Product Description


Get up to speed on drug cases. This curated bundle of 5 hours of fast-paced webcast programming paired with our flagship e-publication on the topic gives you a solid foundation in drug cases—from the elements of drug cases and introducing evidence, to trying the case in District Court. Your clients expect you to have core fluency in these areas; set your own schedule, expand your skill set, and advance your practice.

Webcast Briefings

Alphabet Soup of Drug Offenses: Breaking down the two most essential elements of every drug case; Successfully prosecuting and defending cases involving two or more defendants; Preparation and examination of expert witnesses, including a drug expert witness; How to handle the introduction of evidence of drugs without having the drugs themselves; Introduction to electronic evidence
Trial of a Drug Case in District Court: This "trial" walks you through all the steps of the trial: pre-trial matters, openings, prosecution direct and cross, defense direct and cross, charge conference, post-trial motions, and closing arguments. A "how to" demonstration from our expert faculty with comments from the judge completes the program.

Companion eBook

Trying Drug Cases in Massachusetts: With this comprehensive trial reference, you will be able to identify the key elements of the alleged offenses and the substantive and procedural defenses available. You will also gain the practical information and understanding of the case law you need to master every stage of the litigation, from suppression motions to cross-examination. More than a dozen checklists and more than 80 forms and other practical exhibits are provided as time-saving resources for researching and preparing your case.

Unparalleled Expertise—Speakers & Authors

Top-notch Guidance—from the Best in the Practice
Practical Insight You Can Trust

Agenda

Agenda & Materials

Please Note

MCLE webcasts are delivered completely online, underscoring their convenience and appeal. There are no published print materials. All written materials are available electronically only. They are posted 24 hours prior to the program and can be accessed, downloaded, or printed from your computer.

Faculty

Pricing

Fees

$175.50 - MCLE Sponsor Member
$97.50 - New Lawyer
$97.50 - Pending Admittee
$97.50 - Law Student
$97.50 - Paralegal
$195.00 - All Others

To apply for a need-based scholarship for this program, email

scholarships@mcle.org

.
TOP