ERISA Benefit Claims: A Nuts & Bolts Primer
Understanding the complex federal statute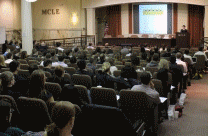 Product Number: 2230098P01
CLE Credits, earn up to:
3 substantive credits, 0 ethics credits

CLE Credit Note

Add to Favorites List

Remind Me Later

ⓘ

Sign up to receive a reminder one week prior to program.
Interested in ERISA Benefit Claims: A Nuts & Bolts Primer but not sure you can make it?
Sign up to receive an automatic reminder one week before the program date.
Email
No Thanks.Submit
Product Description
Agenda & Materials
Faculty
Pricing
Product Description

Product Description


This program presents an overview of the Employee Retirement Income Security Act (ERISA) for the non-ERISA practitioner as well as more seasoned litigators. While not intended to be an exhaustive seminar on the ins and outs of ERISA, the program provides you with a basic understanding of ERISA and its impact on other areas of practice as well as a framework for litigating ERISA claims.

Agenda

Agenda & Materials

Overview and Background of ERISA

Overview of the Importance of the Internal Appeal

A Conversation with Judge Young

"Ask the Experts" Q&A Session

Please Note

MCLE webcasts are delivered completely online, underscoring their convenience and appeal. There are no published print materials. All written materials are available electronically only. They are posted 24 hours prior to the program and can be accessed, downloaded, or printed from your computer.

Faculty

Pricing

Fees

$220.50 - MCLE Sponsor Member
$122.50 - New Lawyer
$122.50 - Pending Admittee
$122.50 - Law Student
$122.50 - Paralegal
$245.00 - All Others

To apply for a need-based scholarship for this program, email

scholarships@mcle.org

.
TOP