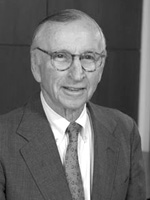 The Thomas D. Burns Scholarship Fund
Thomas D. Burns
Co-Founding Partner, Burns & Levinson LLP
For over 60 years, one of Boston's preeminent trial lawyers and a giant in the profession who has had a pervasive impact on the practice of law and on the shaping of young lawyers.
On the occasion of his 90th birthday, Massachusetts Continuing Legal Education (MCLE) is pleased to join with Burns & Levinson LLP to announce the establishment of the Thomas D. Burns Scholarship Fund. The fund, developed by a committee of Tom's friends and colleagues, honors this recognized leader in the legal community and will fund participation in MCLE programs. For more than 60 years, Tom has been a model example of professionalism and excellence for generations of lawyers, practicing with a dedication to the law and commitment to unceasing service and innovative representation to clients and the public. The fund was announced during a birthday celebration for Tom, hosted by Burns & Levinson on April 7th.

Leadership gifts from Burns & Levinson LLP and Lawrence G. Cetrulo, accompanied by additional contributions, provide a strong financial foundation for the fund. The committee will continue its efforts to grow the scholarship fund, which will be used as a vehicle to help train legal services staff attorneys, private practitioners who accept pro bono cases, and other deserving lawyers who, without financial assistance, would not be able to attend MCLE programs.

"We are honored to be working with MCLE and a committee of Tom's close friends to honor a remarkable lawyer, dedicated teacher and dynamic mentor. Creating a fund in his name to help train public-spirited lawyers who represent the poor is a fitting tribute to one who has been so instrumental in the development of the profession and the legal landscape over the past six decades. Tom literally has had a hand in the training of generations of lawyers. His passion for the law and his commitment to the legal community and public continue to resonate in the hearts and minds of the many lawyers and clients Tom has touched over the years. We look forward to extending Tom's legacy with this scholarship endowment."

David P. Rosenblatt, Esq.
Managing Partner, Burns & Levinson LLP

MCLE is grateful to the committee that helped create this scholarship endowment so that it can have a lasting and meaningful impact: Lawrence G. Cetrulo, Cetrulo & Capone, Chair; Sam Adams, K&L Gates LLP; Leo V. Boyle, Meehan, Boyle, Black & Bogdanow, PC; Christopher A. Duggan, Smith & Duggan LLP; Norman I. Jacobs, Esdaile, Barrett & Esdaile; Patrick T. Jones, Cooley Manion Jones LLP; Michael B. Keating, Foley Hoag LLP; Dennis J. Kelly, Burns & Levinson LLP; Kevin G. Kenneally, LeClairRyan, PC; Stephen N. Subrin, Northeastern University Law School; and Catherine A. White, Cetrulo & Capone LLP.

A founding partner of Burns & Levinson in 1960, Tom has long been considered one of Boston's preeminent trial lawyers, representing some of the country's largest insurance companies, banks, auto manufacturers, major corporations, law firms, railroads, hospitals, newspapers and individuals. Recognized by Massachusetts Lawyers Weekly as one of Massachusetts' most influential lawyers of the past 25 years and a Fellow of the American College of Trial Lawyers, he has tried cases throughout Massachusetts courts and other New England states, and has argued more than 100 appeals at the Massachusetts Supreme Judicial Court, the Massachusetts Appeals Courts and the U.S. Court of Appeals. Appointed to the Judicial Council of the Commonwealth of Massachusetts by Governor Francis W. Sargent and then as vice chairman of the Massachusetts Judicial Nominating Commission by Governor Edward J. King, Tom has also served as special counsel to the Boston City Council and chairman of the judicial selection committee of the Boston and Massachusetts Bar Associations. Passionate about the practice of law and perennially listed among The Best Lawyers in America, he twice turned down a seat on the Massachusetts Superior Court.

A graduate of Brown University and the Boston University School of Law, Tom was admitted to the Massachusetts bar in 1944 while on active duty in the U.S. Navy serving as a Lieutenant in the Mediterranean and Pacific. After returning from World War II, he joined the Boston firm of Friedman, Atherton, King & Turner, where he trained under the legendary Lee Friedman and subsequently became a partner. Following that, he and another young partner, Larry Levinson, left to start their own firm.

Tom was instrumental in building Burns & Levinson from a small office of four lawyers, two secretaries and a set of inherited Mass. Reports in the backrooms at 77 Franklin Street into a major force in the legal community. Today, the firm has offices in Massachusetts, Rhode Island and New York and is the professional home to more than 125 lawyers. Hundreds of graduates of Burns & Levinson who, instilled with the same independence and entrepreneurial spirit as the firm's co- founders, have spread out to establish their own successful law firms as well.

"Tom is without peer in the courtroom. His influence on the careers and lives of a generation of Massachusetts trial lawyers is awe-inspiring. Every day brings a new occasion to apply the lessons I learned about trying cases and managing a law firm. I am proud to have carried his trial bag. This MCLE Scholarship allows those of us who owe him so much to contribute to an enduring legacy in his name."

Lawrence G. Cetrulo, Esq., Cetrulo & Capone LLP

MCLE looks forward to seeing this fund in Tom's name serving as a means to help train public interest lawyers who represent and give voice to some of the most vulnerable members of our society, and standing as an appropriate way to demonstrate admiration for an outstanding trial lawyer and remarkable role model.


D O N O R S
Samuel Adams
Anonymous
Arbella Insurance Group Charitable Foundation, Inc.
Lisa G. Arrowood
Hon. Carol S. Ball
Francis X. Bellotti
Brian D. Bixby
Annette M. Boelhouwer
Burns & Levinson LLP
Lawrence G. Cetrulo
Dr. Robert H. Clifton
Thomas H. Hayman
Cooley Manion Jones LLP
Norman I. Jacobs
Patrick T. Jones
Dennis J. Kelly
Kevin G. Kenneally
LeClairRyan
Elliot D. & Lenore Zug Lobel
Howard D. Medwed
John R.D. McClintock
Meehan, Boyle, Black & Bogdanow
Bob B. and Anne S. Rosenthal
Terry Philip Segal
Sloane and Walsh LLP
Prof. Stephen N. Subrin
Paul R. Sugarman
Paul F. Ware
Michael B. Weinberg
Robert W. Weinstein
Herbert & Eleanore Weiss Family Fund
Catherine A. White
Henry M., III & Lorraine S. White

Make a Donation
If you wish to donate, kindly select your desired amount from the list below. You will be guided to a secure, encrypted transaction page to complete your online donation. If you are purchasing MCLE products online, your donation will be added to those transactions. Once the transaction is complete, MCLE will promptly email to you a confirmation of your tax-deductible donation. MCLE accepts all major credit cards. Please rest assured that MCLE takes very seriously its stewardship of your gift: Your online donation and account information reside in a secure environment, protected by the SSL certificate. MCLE never requests your Social Security number or other confidential information. To review MCLE's annual report, click here. For MCLE's privacy policy, click here.
If you prefer to make a donation by non-electronic means, please click here to download a pledge form that can be forwarded to:
Sal Ricciardone, Esq., Director of Philanthropy
Massachusetts Continuing Legal Education, Inc.
Ten Winter Place
Boston, MA 02108-4751