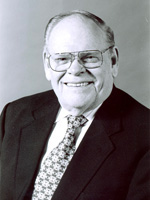 The Earle C. Cooley Scholarship Fund
Earle C. Cooley
Partner, Cooley Manion Jones LLP, Boston
The ultimate trial lawyer known for his work ethic, formidable intellect, and passion for justice and the search for truth.
It is with great sadness that MCLE joins the legal community in mourning one of its legendary and brightest stars, Earle C. Cooley (1932-2009). With a generous leadership gift from his partners at Cooley Manion Jones LLP, MCLE is creating a named scholarship fund to honor an outstanding member of the legal community who, over a career that spanned nearly fifty years, helped set — and then kept raising — the bar for all trial lawyers.
Because of his career as a brilliant trial advocate and his participation over the years in MCLE's annual Trial Advocacy Workshop, scholarships from The Earle C. Cooley Scholarship Fund will be awarded to deserving lawyers, including legal services staff attorneys, practitioners who accept pro bono cases and others who certify need, specifically so that they may attend trial practice-related programs, including MCLE's summer Trial Advocacy Workshop. The purpose of the fund will be to provide training to trial lawyers who serve and give voice to low- and moderate-income clients, thereby increasing access to the court system for those who are often among the most vulnerable members of our society.
A graduate of the University of Connecticut and Boston University School of Law, Mr. Cooley began his career at the Boston law firm of Hale and Dorr, where he practiced until he co-founded the firm of Cooley, Manion, Moore & Jones in 1984. Over the years, he cultivated the respect and admiration of his partners, colleagues and adversaries alike for his trial skills, formidable intellect, and unswerving commitment to the law. The ultimate trial lawyer, he represented clients in every area of litigation. Although he became known as one of Massachusetts' foremost criminal defense lawyers, he tried with the same fervor — and success — all different types of cases, including divorce disputes, patent infringement challenges, First Amendment suits, and contract actions. Devoted to the law and its principles, he had an unparalleled work ethic, and stories abound about his ability to prepare for and try two different cases on the same day. A giant in the legal profession, he demanded nothing less than excellence, professionalism and commitment from those with whom he worked.
Although an intimidating figure in the courtroom, he was a kind friend and thoughtful mentor to many, and dedicated much of his time to the bar and legal community. He taught courses in Trial and Appellate Procedure at Boston University School of Law, where he also served as President of the Law School Alumni Association from 1971-1972 and as Trustee of the University from 1974-2004. He participated in numerous MCLE programs on trial practice and technique, and served on the Governor's Judicial Nominating Council and on the Chief Justice's Commission on the Future of the Massachusetts Courts. His influence will live on in all those who had the privilege of learning from, knowing and working with him. It is the hope of his partners at Cooley Manion Jones LLP and MCLE that creating this fund in Mr. Cooley's name to help train trial lawyers who represent underprivileged or traditionally underserved populations is a meaningful and appropriate way to perpetuate his legacy and demonstrate our admiration for this extraordinary lawyer.
D O N O R S

Established by a leadership gift from his partners at Cooley Manion Jones LLP in honor of their founder, mentor and friend, with additional contributions from:
A.W. Chesterton Company
Edward G. Andelman
Hon. Carol Ball
Ellen M. Bates & Dustin M. Tenreiro
Arthur & Mary Blasberg
Michael R. Brown
Thomas D. Burns
Kathy Campanella
Lawrence G. Cetrulo
Citizens Energy Corp.
Dennis & Nancy Clow
Martha Coakley for Senate Committee
Committee to Elect Clerk of Courts
Commonwealth Mediation & Conciliation, Inc.
Hon. Thomas E. Connolly
Cooley Manion Jones LLP
William A. Curry
James S. Ellison
Leonard T. Evers
Timothy J. & Melissa M.M. Fazio
Helen Foley-Bousquet
Ford, Mulholland & Moran, PC
John C. Gallagher, Jr.
Molly E. Gallagher
Peter M. & Mary Kate Geraghty
Giarrusso, Norton, Cooley & McGlone, PC
John B. Glynn
Howard P. Goldberg
Kermit Goodman
Rhona Gordon
Annette and Donald Green
Edward T. Hinchey
Richard F. Hoyle
Sarah Knoff
Kurowski, Bailey and Shultz, LLC
Gregory T. Lano
LeFlamme, Barron & Chabot, LLP
Gerry T. Leone, Jr.
Jamie M. Magnani
Jane M. Mahon
John R. Manion
Frank A. Marinelli
Barbara Moore & Jack VanWoerkom
Paul and Margaret Noland
Daniel W. O'Malley
Regan & Kiely LLP
Samet & Company, PC, Norman & Susan Posner, Randall Smith
John Silber
Sloane and Walsh, LLP
Mary G. Smith
Allen L. Snyder III
John F. Sullivan
Kathleen P. Towers
Scott J. Tucker and Francine T. Sherman
Western Mass. Rendering Co., Inc.
Make a Donation
If you wish to donate, kindly select your desired amount from the list below. You will be guided to a secure, encrypted transaction page to complete your online donation. If you are purchasing MCLE products online, your donation will be added to those transactions. Once the transaction is complete, MCLE will promptly email to you a confirmation of your tax-deductible donation. MCLE accepts all major credit cards. Please rest assured that MCLE takes very seriously its stewardship of your gift: Your online donation and account information reside in a secure environment, protected by the SSL certificate. MCLE never requests your Social Security number or other confidential information. To review MCLE's annual report, click here. For MCLE's privacy policy, click here.
If you prefer to make a donation by non-electronic means, please click here to download a pledge form that can be forwarded to:
Sal Ricciardone, Esq., Director of Philanthropy
Massachusetts Continuing Legal Education, Inc.
Ten Winter Place
Boston, MA 02108-4751