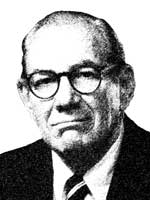 The Hugh J. Corcoran Scholarship Fund
Hugh J. Corcoran
Partner, Ely & King, Springfield

A corporate lawyer with a civic spirit; counsel to leading businesses and financial institutions in Western Massachusetts, while also fulfilling a pro bono mission to assist the poor.
The establishment of the Hugh J. Corcoran Scholarship Fund at MCLE brings together an organization and a principle that were important to Attorney Corcoran. He was fortunate to be able to watch MCLE as it outgrew its humble beginnings in the Springfield offices of Ely King and he had a tremendous respect for MCLE as an institution. Also, Attorney Corcoran believed that all persons who need legal help are entitled to representation whether or not they are able to afford it. For this reason, during his career he performed untold hours of pro bono work. In establishing this Fund, Attorney Corcoran's long history of service to the bar as an advocate and a mentor continues.
Hugh J. Corcoran was born in Westfield, Massachusetts in 1914 and was a partner specializing in litigation in the Springfield, Massachusetts law firm, Ely, King, Corcoran, Milstein & Beaudry; later, Ely & King. During his years at Ely King, his colleagues included Massachusetts Governor Joseph B. Ely; Richard S. Milstein, founder of Massachusetts Continuing Legal Education; and the Honorable John M. Greaney of the Massachusetts Supreme Judicial Court. Hugh Corcoran died in Holyoke in 1992.
Attorney Corcoran was educated in the Westfield schools, Massachusetts State College (Amherst), later University of Massachusetts and Boston University Law School. While in law school he was clerk to Governor Ely. He was admitted to the bar in 1938.
During the Second World War, Attorney Corcoran was a prosecutor with the Offices of Price Administration.
In the 1950s Attorney Corcoran held elective offices in Holyoke, where he was a ward Alderman and President of the Holyoke Board of Alderman. He was later the Chairman of the Holyoke Redevelopment Authority. For many years, Attorney Corcoran served on the Board of Directors of the Holyoke Hospital as Clerk of the Corporation.
Attorney Corcoran was married to the former Elizabeth Humphries. Their children are: Attorney Joan C. Steiger of Holyoke; Attorney Susan Corcoran, MPH, of Boston; and Elizabeth C. Murray, MSW, of Gig Harbor, Washington.
D O N O R S
Henry M. & Regina M. Downey
Charles L. Kirkpatrick
F. Curtis Lane
Clarke S. Lyon
Richard S. Milstein
Deborah A. Leopold and Hon. David G. Sacks
Susan Corcoran and Joshua R. Sanes
Steven J. Schwartz
The Albert Steiger Memorial Fund
Joan Corcoran Steiger
Susan Corcoran and Joan Corcoran Steiger
Donald R. Taber
Make a Donation
If you wish to donate, kindly select your desired amount from the list below. You will be guided to a secure, encrypted transaction page to complete your online donation. If you are purchasing MCLE products online, your donation will be added to those transactions. Once the transaction is complete, MCLE will promptly email to you a confirmation of your tax-deductible donation. MCLE accepts all major credit cards. Please rest assured that MCLE takes very seriously its stewardship of your gift: Your online donation and account information reside in a secure environment, protected by the SSL certificate. MCLE never requests your Social Security number or other confidential information. To review MCLE's annual report, click here. For MCLE's privacy policy, click here.
If you prefer to make a donation by non-electronic means, please click here to download a pledge form that can be forwarded to:
Sal Ricciardone, Esq., Director of Philanthropy
Massachusetts Continuing Legal Education, Inc.
Ten Winter Place
Boston, MA 02108-4751