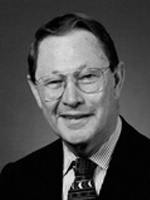 The John J. Curtin, Jr. Scholarship Fund
John J. Curtin, Jr.
Bingham McCutchen LLP
The "Ultimate Citizen Lawyer" who set the gold standard for all trial counsel; a respected bar leader in Massachusetts and nationally with a deep commitment to the profession and the preservation of legal services for the poor.
Massachusetts Continuing Legal Education, Inc. (MCLE) is pleased to announce the establishment of the John J. Curtin, Jr. Scholarship Fund to honor a friend, colleague, and outstanding member of the legal community whose contributions to the practice of law both in Massachusetts and nationally have had a wide and rippling effect on the professionalism of the bar. Jack has set the gold standard for the legal community through his bar and civic leadership, as a model of ethical service and professional responsibility, and as an educator and mentor. MCLE is grateful to the committee that is helping create this scholarship endowment so that it can have a lasting and meaningful impact: Daniel L. Goldberg, Bingham McCutchen LLP, Chair; Jonathan M. Albano, Bingham McCutchen LLP; Joseph P. Curtin, Mintz Levin Cohn Ferris Glovsky and Popeo, PC; Jody E. Forchheimer, Fidelity Investments; Michael S. Greco, K&L Gates LLP; Roy A. Hammer, Hemenway & Barnes LLP; Joan A. Lukey, Ropes & Gray LLP; Thomas F. Maffei, Griesinger, Tighe & Maffei LLP; R. Robert Popeo, Mintz Levin Cohn Ferris Glovsky and Popeo, PC; John J. Regan, Wilmer Cutler Pickering Hale and Dorr LLP; Alice E. Richmond, Richmond & Associates.

Over the course of his distinguished career, Jack has become a legend, both as a trial lawyer and as a role model to the legal community. After receiving his J.D. from Boston College Law School in 1957 and an LL.M. from Georgetown University Law Center in 1959, Jack began his career in the U.S. Justice Department and later the U.S. Attorney's Office, where he cut his teeth working on several prominent cases. During the 1980s, he was appointed Special Assistant Attorney General in charge of the appeals from the "The Small Loans" political corruption case, one the longest trials in Massachusetts history. At Bingham McCutchen, where he continues as Of Counsel, Jack became one of the country's leading commercial and business litigation lawyers, serving as chairman of the firm's Litigation Department for many years. Throughout his career, his dedication and passion has garnered the respect in the courtroom of both colleagues and opposing counsel alike. A fellow of the American College of Trial Lawyers and former chair of the Litigation Section of the American Bar Association, he is perennially listed as one of Massachusetts' and America's leading lawyers in such publications as Best Lawyers in America, Chambers USA, Super Lawyers, and Lawdragon 3000, and in 2005 received the prestigious Lifetime Achievement Award from American Lawyer for his contributions to public life and the legal profession over five decades of practicing law.

Referred to as "the ultimate citizen lawyer," he has combined a formidable trial practice with a wide array of civic and philanthropic endeavors that have left lasting impacts. As president of the Boston Bar Association in 1981, Jack was instrumental in preserving legal aid funding for the Legal Services Corporation, leading the BBA's "Gang of 11" delegation to Washington DC to prevent the loss of legal aid funding nationwide. Upon returning to Massachusetts he played a vital role in creating the Massachusetts Legal Assistance Corporation and in expanding pro bono representation and CLE training statewide so that lawyers could do more to help those unable to afford one.

As president of the American Bar Association in the early 1990's, in addition to continuing to champion legal services on a national level, he defended the values of the entire legal profession against political attacks undermining ethical practices and professional responsibility. When then Vice President Dan Quayle claimed that lawyers were hurting our country's competitiveness, Jack's famous rebuttal, as quoted in the New York Times, demonstrated his deep abiding devotion to the legal profession: "Anybody who believes a better day dawns when lawyers are eliminated bears the burden of explaining who will take their place."

Consistent with his deep commitment to the education and training of lawyers, he has taught trial advocacy at Boston College Law School for more than 30 years. His long history with MCLE dates back to the organization's early years, when he served as an MCLE Trustee (1979-1984) and where he has been an active volunteer, particularly in the development of MCLE's annual New England Antitrust Conference.

Underscoring his continuing devotion to ensuring equal access to legal services for everyone, he and his wife created the Mary Daly Curtin and John J. Curtin, Jr. Center at Boston College Law School, which provides space and stipends to students interested in public interest law. They have also established public interest fellowships at the ABA to provide funding for lawyers fighting homelessness. Jack continues to serve as a director of Appleseed legal support services and the National Consumer Law Center.

Throughout his career, Jack has remained active in his local community, serving as Wellesley Town Moderator, a member of the Wellesley Advisory Committee, President of the Association of Town Finance Committees, and a member of the Local Government Advisory Committee established by former Governor Michael Dukakis. And despite a busy and full professional life, he always found time to coach Little League in his hometown.

The John J. Curtin, Jr. Scholarship Fund will endow scholarships every year, in Jack's name, to legal services staff attorneys, practitioners who accept pro bono cases, and other deserving lawyers who, without financial assistance, would not be able to attend MCLE programs. The instrumental role Jack has served both in Massachusetts and nationally in advocating for the funding of legal services and his strong interest in the provision of pro bono representation make the establishment of this scholarship fund, to help train lawyers who represent the poor, a fitting way to demonstrate our admiration and gratitude for his inspiring example. Consistent with his unwavering advocacy in support of access to justice for the needy, the benefits scholarship recipients receive through continuing education have a definite, lasting effect on the clients they serve.

Jack has touched and influenced the lives and careers of so many in the legal community. To join us in honoring him by making a tax-deductible contribution to the John J. Curtin, Jr. Scholarship Fund, please contact Sal Ricciardone, Esq., MCLE Director of Philanthropy at (617) 896-1596 or proceed to make an online donation.
DONORS
Established by a leadership gift from Bingham McCutchen LLP with additional contributions from:
Maris L. Abbene
Jonathan M. Albano
David W. Archer
Mark W. Batten
William F. Benson
William N. Berkowitz
Brandon L. Bigelow
David C. Boch
Vicki Bonnington & David Schecker
John S. Brown
Dianne S. Burden
Timothy P. Burke
Hon. Denise J. Casper
Ansel B. Chaplin
Hon. Robert B. Collings
Jenny K. Cooper
Hon. John C. & Holly B. Cratsley
Brian M. Cullen
Carolyn & Joseph P. Curtin
Gene D. Dahmen
Paul P. Daley
Joshua M. Dalton
James P. Delphey
Nancy E. Dempze
Richard K. Donahue, Sr.
Alicia L. Downey
Hon. Fernande R.V. Duffly
M. Gordon Ehrlich
Jody E. Forchheimer
Francis H. Fox
Julia Frost-Davies
Nancy B. & Nathaniel S. Gardiner
Michael E. & Mary E. Garrity
Hon. E. Susan Garsh
Daniel L. Goldberg
Irvin D. Gordon
Hon. Nathaniel M. Gorton
Michael S. Greco
Eileen M. Hagerty
Roy A. Hammer
James & Colleen Hankins
Eric P. Hayes
Henry S. Healy
Gerald P. (Jed) Hendrick
David B. Hobbie
William A. Horne
Janice W. Howe
Joseph F. Hunt III
R. Williams Ide III
Stanley Keller
Hon. Diane M. Kottmyer
Stephen W. Kidder
Rabbi Van Lanckton
Renee M. Landers & Thomas L. Barrette, Jr.
Eunice E. Lee
Paul W. Lee
William F. Lee
Lloyd P. Lochridge
Joan A. Lukey
Hon. Sandra L. Lynch
Thomas F. & Lorraine R. Maffei
Meghan H. Magruder
Sarah E. Marston
Martha A. Mazzone
S. Elaine McChesney
Robert E. McDonnell
James C. McGrath
Gregor I. McGregor
Pete S. Michaels
Robert A. Miley
Richard S. Milstein
Justin P. Morreale
Neil P. Motenko
Robert J. Muldoon, Jr.
Lawrence T. Perera
Andrew C. Phelan
Christopher Poreda
Michael J. Puzo
Robert L. Quinan, Jr.
Dr. Barry Ramo & Roberta Cooper Ramo
Gerald F. Rath
James B. Re
Joel M. Reck
John J. Regan
John M. (Jack) Reilly
Carmen C. Reiss
Alice E. Richmond & David L. Rosenbloom
Mark E. Robinson
Neal A. Rosen
Adam J. Ruttenberg
Mary K. Ryan
Francis J. Sally
Thomas J. Sartory
Daniel Savrin
Kitt Sawitsky
Thane D. Scott
Lawrence I. Silverstein
Arnold L. & Polly G. Slavet
John R. Snyder
Charles L. Solomont
William G. Southard
Paul R. & Susan Sugarman
James A. Swartz
Thomas H. Walsh, Jr.
Pamela J. Wood
Raymond H. Young
Hon. William G. Young

Make a Donation
If you wish to donate, kindly select your desired amount from the list below. You will be guided to a secure, encrypted transaction page to complete your online donation. If you are purchasing MCLE products online, your donation will be added to those transactions. Once the transaction is complete, MCLE will promptly email to you a confirmation of your tax-deductible donation. MCLE accepts all major credit cards. Please rest assured that MCLE takes very seriously its stewardship of your gift: Your online donation and account information reside in a secure environment, protected by the SSL certificate. MCLE never requests your Social Security number or other confidential information. To review MCLE's annual report, click here. For MCLE's privacy policy, click here.
If you prefer to make a donation by non-electronic means, please click here to download a pledge form that can be forwarded to:
Sal Ricciardone, Esq., Director of Philanthropy
Massachusetts Continuing Legal Education, Inc.
Ten Winter Place
Boston, MA 02108-4751