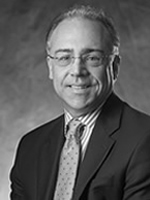 The Thomas C. Federico Scholarship Fund
Thomas C. Federico (1957-2010)
Partner, Morrison Mahoney LLP
An exceptional trial advocate, a dedicated mentor of young lawyers, and a devoted family man, he left an indelible mark on all those around him with his modesty, intelligence, charm and warmth.
As a result of the generosity of nearly 100 contributors, Massachusetts Continuing Legal Education, Inc. (MCLE | NewEngland®) is pleased to announce the establishment of the Thomas C. Federico Scholarship Fund in tribute to a gifted trial attorney and model professional who made a lasting impact on the legal community he served. MCLE is grateful to the dedicated committee that helped create this scholarship endowment. Led by his sister, Phyllis E. Federico of Schmidt & Federico PC, and joined by his daughter Kathleen Federico, Suffolk Law 2011, the committee included: Robert W. Casby, Sugarman and Sugarman, PC; Grace V. Bacon Garcia, Morrison Mahoney LLP; Mark P. Harty, Morrison Mahoney LLP; Christopher A. Kenney, Kenney & Sams, PC; Lee S. MacPhee, Morrison Mahoney LLP; and Douglas K. Sheff, Sheff Law Offices, PC.

A powerful advocate for his clients and an exceptional trial attorney, Tom was widely recognized for his passion, integrity, energy, and, most of all, fundamental decency. His modesty and even-headed manner set him apart from others, as his personal warmth and dignity made an enduring—and endearing—impression on all those he encountered, whether it was in the office, in the courtroom, on the soccer field, or in the stands at one of his children's youth hockey games.

A graduate of Boston College in 1979 and Suffolk University Law School in 1982, Tom began his career as a clerk for the Chief Justice of the Rhode Island Supreme Court and went on to work as a public defender at the Committee for Public Counsel Services in Massachusetts. In 1986, he joined the Boston firm then known as Morrison, Mahoney & Miller, where, for the next twenty-four years, he specialized in construction and products liability law and became an integral member of the firm's leadership. Tom's achievements placed him among the best lawyers in Massachusetts, earning him the highest rating from Martindale Hubble and an annual spot on Boston Magazine's "Super Lawyer" list from 2004 to 2009. Deeply committed to the profession, he played prominent roles in such organizations as the American Board of Trial Advocates; the Defense Research Institute; the International Association of Defense Counsel; the Massachusetts Bar Association; and the Massachusetts Defense Lawyers Association, where he served on the Board of Directors for many years. A former Vice-Chair of the Construction Law Committee for the Defense Research Institute, he also chaired the Construction Committee of the American Law Firm Association.

In addition to lecturing and publishing articles on the legal issues in the construction and insurance industries, Tom valued the opportunity to mentor young lawyers. He provided a model of decency and professional competence and, just as important, proof that one could be a highly successful and respected lawyer, a leader in local and national professional associations and, at the same time, a devoted family man, team photographer and sports fan who never missed one of his children's games.

The Thomas C. Federico Scholarship Fund will endow scholarships for legal services staff attorneys, practitioners who accept pro bono cases, and other lawyers who, without financial assistance, would not be able to attend MCLE programs. At the young age of 52, Tom left us far too early. But in that short time, he also left an indelible mark. It is the hope of all those who helped create this fund that, by endowing scholarships to help train public interest lawyers who represent the poor, it will ensure that his legacy as a mentor of young lawyers continues—while at the same time stand as a fitting way to demonstrate our gratitude for his inspiring and remarkable example.
D O N O R S

Nicholas Alexander
ALFA International
Stephen J. Andrick
Avolio & Hanlon, P.C.
John G. Bagley
John & Annette Balzano
Dr. Joyce M. Bisso
Joseph T. Black
Boyle, Morrissey & Campo, P.C.
Burbank Mediation Services
Scott D. Burke
Business by Sunrise
Joseph B. Carini, III
J.W. Carney, Jr.
Carter, Conboy, Case, Blackmore, Maloney & Laird, P.C.
Robert Casby
Clark, Hunt, Ahern & Embry
Commonwealth Mediation & Conciliation, Inc.
Mr. & Mrs. Robert P. Cronin
Brian M. Cullen
Brian C. Dever
Ira Dubin
Sharon E. Duquette
Alice Federico
Mr. & Mrs. William Feil
John W. Fieldsteel
Grace V. B. Garcia
Garson DeCorato & Cohen, LLP
Associate Attorneys from Garson DeCorato & Cohen, LLP
Professor Joseph W. Glannon
William & Susan Graf
Haight, Brown & Bonesteel, LLP
Leslie S. Harkavy
Carol Harrison
Mark P. & Sally White Harty
Maria Heaney
Hewlett-Woodmere Alumni Association
Hewlett-Woodmere Public Schools Board of Education
Philip M. Hirshberg
Holmberg Healy Family Charitable Trust
Patricia Huber
Patrick T. Jones
John, Mary, Jennifer & Matthew Jordan
Mr. & Mrs. James R. Julian
Margery D. Kashman
Keches Law Group
Kenney & Sams, P.C.
Christopher A. Kenney
Key Club of G.W. Hewlett High School
Jacqueline & Fred Kohanna
Gilbert Kreiss
Leavis & Rest, P.C.
Marianne C. Leblanc
J.K. Leonard
Looney & Grossman LLP
Lynch & Lynch, P.C.
Matthew R. Lynch
Lee MacPhee
Martin Magnuson McCarthy & Kenney
Massachusetts Defense Lawyers Association
Grace Mattel
Edward F. & Ann Bowe McDermott
Francis P. & Theresa W. McDermott
McDonough, Hacking & Lavoie, LLC.
Patricia & Timothy McGuirk
Meehan, Boyle, Black & Bogdanow
Richard S. Milstein
Morrison Mahoney LLP
Matthew & Kelli A. Naccari
Nixon Peabody LLP
Stephen J. Paris
Jodi M. Petrucelli & John B. Manning, Jr.
Rose F. Pollera
John (Jack) Reilly
Renaud Cook Drury Mesaros, PA
Martin J. Rooney
Michael P. Sams
Michael Sarro
Nancy & Gregg Savage
Schmidt & Federico PC
Mary H. Schmidt
Estelle Shafran
Tara C. & Joseph A. Siderowicz
Sloane & Walsh LLP
W. Thomas & Joan Center Smith
Student Council of G.W. Hewlett High School
Neil & Marsha Sugarman
Paul R. Sugarman
Stephen K. & Thalia H. Sugarman
Taylor, Day, Currie, Boyd & Johnson
John Francis Toomey, Jr.
Kimberley J. Walker
Kenneth B. Walton
Rachel B. & Stuart Weigensberg
Steven Willis & Elissa Freud
Jacy L. Wilson
Sarah E. Worley
Jennifer A. Yelen
Benjamin R. & Thorunn R. Zimmermann
The Zulkowitz Family

Make a Donation
If you wish to donate, kindly select your desired amount from the list below. You will be guided to a secure, encrypted transaction page to complete your online donation. If you are purchasing MCLE products online, your donation will be added to those transactions. Once the transaction is complete, MCLE will promptly email to you a confirmation of your tax-deductible donation. MCLE accepts all major credit cards. Please rest assured that MCLE takes very seriously its stewardship of your gift: Your online donation and account information reside in a secure environment, protected by the SSL certificate. MCLE never requests your Social Security number or other confidential information. To review MCLE's annual report, click here. For MCLE's privacy policy, click here.
If you prefer to make a donation by non-electronic means, please click here to download a pledge form that can be forwarded to:
Sal Ricciardone, Esq., Director of Philanthropy
Massachusetts Continuing Legal Education, Inc.
Ten Winter Place
Boston, MA 02108-4751