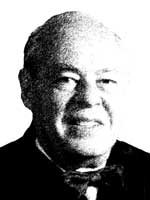 The Honorable Frank H. Freedman Scholarship Fund
Hon. Frank H. Freedman
Chief Judge, U.S. District Court, District of Massachusetts

An even-handed and patient jurist who, as Mayor of Springfield in the l960s, worked to assuage that city's racial tension.
The late Honorable Frank H. Freedman (1924-2003) was one of the most devoted justices of the U.S. District Court for the District of Massachusetts, whose service in the court began in 1979. The Honorable Frank H. Freedman Scholarship Fund was established in 2003 by some of Judge Freedman's friends and former law clerks, to honor Justice Freedman's achievements by extending CLE opportunities to lawyers who practice in the western part of Massachusetts.
A visionary for the establishment of the western division of the federal judiciary in Springfield, Massachusetts in the 1970s, Justice Freedman was respected by his colleagues as a learned, conscientious man; devoted to the bench and kind and compassionate to all who appeared before him. A native of Springfield, Justice Freedman graduated from Classical High School, served in the United State Navy from 1943 to 1946, graduated from Boston University School of Law and served the Commonwealth of Massachusetts as an assistant attorney general for western Massachusetts, as Springfield city councilor and as Springfield's mayor from 1967 to 1972.
D O N O R S
Anonymous
Nicolas Argy
Scott A. Birnbaum
Daniel E. Callahan
Hon. Judith Gail Dein
Daryl L. Devalerio
Sandy Dibble
Eleanor L. Freedman
Hon. Nathaniel M. Gorton
David E. Grossman
Cathleen M. Halko
Todd A. Healy
Michael O. Jennings
Peter B. & Vicki L. Krupp
Gael Mahony
Jeffrey L. McCormick
Christopher B. Myhrum
Hon. Kenneth P. Neiman
Nathan A. Olin
Mark J. Pasquariello
Hon. Michael A. Ponsor
Katherine A. Robertson
Robinson Donovan P.C.
Mitchel S. Ross
Michael G. Scott
Hon. Walter Jay Skinner
Gerald D. Stoltz
Kenneth B. Walton
Bernadette P. Wyman
Hon. William G. Young
Make a Donation
If you wish to donate, kindly select your desired amount from the list below. You will be guided to a secure, encrypted transaction page to complete your online donation. If you are purchasing MCLE products online, your donation will be added to those transactions. Once the transaction is complete, MCLE will promptly email to you a confirmation of your tax-deductible donation. MCLE accepts all major credit cards. Please rest assured that MCLE takes very seriously its stewardship of your gift: Your online donation and account information reside in a secure environment, protected by the SSL certificate. MCLE never requests your Social Security number or other confidential information. To review MCLE's annual report, click here. For MCLE's privacy policy, click here.
If you prefer to make a donation by non-electronic means, please click here to download a pledge form that can be forwarded to:
Sal Ricciardone, Esq., Director of Philanthropy
Massachusetts Continuing Legal Education, Inc.
Ten Winter Place
Boston, MA 02108-4751