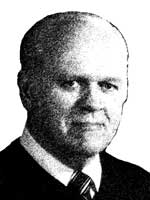 The Honorable Edward F. Hennessey Scholarship Fund
Hon. Edward F. Hennessey
Chief Justice, Supreme Judicial Court

A trial and appellate judge, whose thoughtful commentaries on Massachusetts's bench, bar and courts have become part of the Commonwealth's legal literature.
The existence of the Honorable Edward F. Hennessey Scholarship Fund is the testament to the significant impact the former Chief Justice of the Massachusetts Supreme Judicial Court has had upon many lawyers in Massachusetts. The Fund was created through the combined generosity of Justice Hennessey's colleagues at Martin, Magnuson, McCarthy & Kenney, where he is of counsel, and the many law clerks who have had the privilege to call him their mentor and friend during his distinguished tenure on the beach.
By providing need-based scholarships in trial and appellate advocacy and thereby expanding the reach of continuing legal education to all practitioners, the Honorable Edward F. Hennessey Scholarship Fund will accomplish educational goals that Justice Hennessey has espoused through his years as a trial lawyer, as a justice on the Superior Court and the Supreme Judicial Court, as a professor of law and on the faculties of many continuing legal education programs at MCLE.
During World War II, Justice Hennessey served our country as Captain in the U.S. Army, receiving the Bronze Star and six battle stars. He began his legal career in 1949 as a trial lawyer. He practiced at the state and federal court levels, handling both civil and criminal matters. From 1967 until his appointment to the Massachusetts Supreme Judicial Court in 1971, Justice Hennessey served as an Associate Justice on the Massachusetts Superior Court. From 1976 until his retirement from the bench 1989, he has Chief Justice of the SJC.
After retiring in 1989, Justice Hennessey remained active in the law, serving as of counsel at Martin, Magnuson, McCarthy & Kenney in Boston, as settlement counsel in the alternative dispute resolution program of the United States Court of Appeals from the First Circuit, and as Adjunct Professor of Law at both Boston University School of Law and Boston College Law School. A legal scholar, he wrote extensively on the subjects of trial and appellate technique, judicial administration and Constitutional law. He chaired numerous commissions, including Massachusetts Ethics Commission, the Massachusetts Commission on Equal Justice, the Supreme Judicial Court Historical Society and the Governor's Advisory Commission on the Bicentennial of the Constitution, and served as president of both the National Conference Chief of Justices (NCCJ) and the National Center for State Courts (NCSC).
Justice Hennessey graduated from Northeastern University (B.S.1941) and Boston University School of Law (L.L.B. 1949), and received honorary degrees from five universities.
D O N O R S
Renee M. Landers and Tom Barrette, Jr.
Hon. Janis M. Berry
Robert P. and Katharine M. Bigelow
David S. Mackey and Mary Sarah Bilder
Hon. Beverly W. and Sidney L. Boorstein
Alice F. Brennan
Thomas W. and Margaret Bridge
R. Michael Cassidy
David L. Cameron and Jane Markham
Margaret Ann Cavanaugh
Henry E. Clay
Kevin M. Clermont and Emily L. Sherwin
Holly B. and Hon. John C. Cratsley
William H. Curley
Richard K. Donahue
Janet B. Fierman
Marion Flynn
Marna Badavas and Bill Heenehan et al.
Hon Ellen S. and Jeffrey G. Huvelle
Thomas J. Keating
Larry C. Kenna
M. Joan Kenney
Raymond J. Kenney
Stephen and Lisa Kenney and Family
Rose M. Krikorian
Peter B. & Vicki L. Krupp
Jane Kenworthy Lewis
Thomas F. and Lorraine Maffei
Veronica Serrato and Richard Marks
Martin Magnuson McCarthy & Kenney
Hon. Frederick J. and Jane Martone
Massachusetts Judges Conference
Gordon P. Katz and Patricia Miller-Katz
Christine L. Newhall
Barbara R. Jezak and Albert A. Notini
Maeve O'Toole
Tish O'Toole
Hon. William I. Randall
Jane M. Reidy and Charles P. Reidy III
Hon. Margot Botsford and S. Stephen Rosenfeld
Thane D. Scott
Stephen Stathis
Teresa Mary O'Toole and Martin Scott Stevenson
Hon. Herbert P. Wilkins

In addition, all proceeds from the sale of The Hennessey Papers benefit the Hon. Edward F. Hennessey Scholarship Fund.
Make a Donation
If you wish to donate, kindly select your desired amount from the list below. You will be guided to a secure, encrypted transaction page to complete your online donation. If you are purchasing MCLE products online, your donation will be added to those transactions. Once the transaction is complete, MCLE will promptly email to you a confirmation of your tax-deductible donation. MCLE accepts all major credit cards. Please rest assured that MCLE takes very seriously its stewardship of your gift: Your online donation and account information reside in a secure environment, protected by the SSL certificate. MCLE never requests your Social Security number or other confidential information. To review MCLE's annual report, click here. For MCLE's privacy policy, click here.
If you prefer to make a donation by non-electronic means, please click here to download a pledge form that can be forwarded to:
Sal Ricciardone, Esq., Director of Philanthropy
Massachusetts Continuing Legal Education, Inc.
Ten Winter Place
Boston, MA 02108-4751