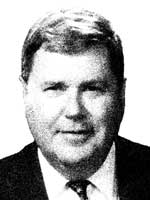 The Edward F. "Ned" Hines, Jr. Scholarship Fund
Edward F. Hines, Jr.
Founding Partner, Hines & Corley LLP, Lexington;
Partner, Choate, Hall & Stewart, Boston
A gifted lawyer, he successfully blended a legal career with an exemplary commitment to service and charity, demonstrated unparalleled generosity and could fill a room with his overflowing warmth.
With the support of the family, former colleagues and many friends of the late Edward F. Hines, Jr. (1945-2006), MCLE remembers and honors an outstanding lawyer, a mentor to many, and a tireless volunteer who contributed so much to the communities of which he was a part. Ned Hines' passing on August 14, 2006 marks the Commonwealth's loss of a brilliant tax lawyer and a dedicated advocate who volunteered a significant portion of his life to professional and charitable organizations serving the legal community and the general public. From his important work with and chairmanship of the American Heart Association to his leadership and active involvement in so many bar activities, including the Boston Bar Association and MCLE, Ned Hines was a role model and philanthropist who led by example. He was a man whose life touched and enriched the lives of so many others.
When it came to the law, Ned Hines believed that everyone, regardless of means, should have qualified representation, which begins with the education of lawyers. In addition to his many other important activities, Ned donated much of his time and effort to help MCLE grow and remained an active volunteer for his entire career. He served on MCLE's Board of Trustees from 1981 through 1989, and led MCLE as its president in 1986 and 1987, laying the foundation for MCLE's future success as the premier provider of continuing legal education in Massachusetts.
Ned's lifetime achievements, both in private practice and in civic duty, illustrate how a person can blend a highly successful legal career with a strong commitment to public service and charity. He truly was an extraordinarily thoughtful and gifted lawyer and advisor whose appetite for work could be characterized only as insatiable. Like the many other professional and charitable organizations he served, MCLE benefited greatly from his leadership and friendship. Despite all of his accomplishments, what most reveals the person of Ned Hines, what people most admired, is how he comported himself in all venues - with respect, good humor, and sincere affection. It is that for which he was cherished in his lifetime and for which he will be long remembered.
MCLE is proud to administer the Edward F. Hines, Jr. Scholarship Fund in honor of our friend and colleague who believed deeply in the continuing education of lawyers. We are privileged to provide a permanent tribute to Ned in creating this scholarship and adding his photograph to our "Wall of Tribute."
D O N O R S
Paul W. Allison
Jack Arovas
Ronald D. Aucutt
Michael A. Austin
Robert Birnbaum
Allen M. Bornheimer
Wayne A. and Jacqui Budd
Choate, Hall & Stewart LLP
John F. Cogan, Jr.
Nolly E. Corley
John M. Cornish
Philip J. Crowe, Jr.
Gene D. Dahmen
Paul P. Daley
David S. Davenport
James R. DeGiacomo
E.G. Watkins Family Foundation
Michael B. Elefante
Scott A. Faust
Foley Hoag LLP
Marion R. Fremont-Smith
Adolfo R. Garcia
Robert J. Gilbert
Gilmore, Rees & Carlson, PC
Frank Giso
Andrew C. Griesinger
John J. Griffin, Jr.
Kenneth & Tanya Gurge
Jeffrey L. Heidt and Myra J. Green
Mrs. Edward F. Hines, Jr. and Family
The Sisters and Brothers of Ned Hines
Christian M. Hoffman
Patricia R. Hurley and Michael Weindling
Mitchell H. Kaplan
Stanley Keller
Larry C. Kenna
Paul J. Kingston
Joseph L. Kociubes
Hon. Kenneth Laurence
Andrea H. Loew
Joan A. Lukey
Elizabeth Lynch
Thomas F. Maffei
Joseph Marzilli
The Sydell and Edward I. Masterman Fund
Moriarty, Shay & Associates, PC.
Robert J. Muldoon Jr.
Joseph E. O'Leary
Kathleen King Parker
Lawrence T. Perera
Regina M. Pisa
Robert C. Pomeroy
Frank B. Porter
John J. Regan
John M. (Jack) Reilly
Richard W. Renehan
James Roosevelt, Jr.
Gilda Tuoni Russell
Clinton H. and Wilma T. Shattuck Charitable Trust
Thomas E. Shirley
Daniel P. Tighe
Thomas H. P. Whitney, Jr.
Make a Donation
If you wish to donate, kindly select your desired amount from the list below. You will be guided to a secure, encrypted transaction page to complete your online donation. If you are purchasing MCLE products online, your donation will be added to those transactions. Once the transaction is complete, MCLE will promptly email to you a confirmation of your tax-deductible donation. MCLE accepts all major credit cards. Please rest assured that MCLE takes very seriously its stewardship of your gift: Your online donation and account information reside in a secure environment, protected by the SSL certificate. MCLE never requests your Social Security number or other confidential information. To review MCLE's annual report, click here. For MCLE's privacy policy, click here.
If you prefer to make a donation by non-electronic means, please click here to download a pledge form that can be forwarded to:
Sal Ricciardone, Esq., Director of Philanthropy
Massachusetts Continuing Legal Education, Inc.
Ten Winter Place
Boston, MA 02108-4751