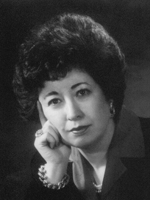 The Gitta M. Kurlat Scholarship Fund
Gitta M. Kurlat
Founder, Kurlat Associates; Kurlat Ventures, Cambridge

A lawyer's lawyer, dedicated to the highest ideals of the profession, and an entrepreneur actively involved in furthering the development and use of innovative technologies.
MCLE is honored to administer the Gitta M. Kurlat scholarship fund to pay tribute to the achievements of a highly accomplished member of Boston's legal and business community.
Gitta M. Kurlat attended George Washington University and Boston University School of Management, where she received a B.S. and B.A. in 1963 and was a member of the Beta Gamma Sigma Honorary Society. She went on to earn a JD cum laude from Boston University School of Law in 1965 and an LLM from Harvard University in 1966.
From 1966 to 1967, Ms. Kurlat worked as an instructor and research assistant at Boston University Law School. She then joined the firm Guterman, Horvitz, Rubin and Rudman, now known as Rubin and Rudman, where she was promoted to Partner after working as an associate attorney for three years. She remained with Rubin and Rudman until 1986, specializing in corporate SEC mergers and acquisition matters.
In addition to her success as a legal practitioner, Ms. Kurlat's corporate expertise and entrepreneurial spirit have been a driving force behind several successful business ventures. In 1968, she co-founded Eikonix Corporation, a digital imaging and technology company, for which she served as director until it was sold in 1985 to Eastman Kodak. In 1986, after leaving Rubin and Rudman, Ms. Kurlat founded Kurlat Associates, a firm specializing in business, securities and international corporate law, and Kurlat Ventures, a venture capital company specializing in high tech industries.
Throughout her career, Ms. Kurlat has served in leadership roles in the Massachusetts, Boston and American Bar Associations and has been deeply committed to the integrity and the professional development of the bar. She has served as a member of the Massachusetts Board of Bar Overseers, and her involvement with MCLE dates back to its founding when she served as one of the organization's early volunteer faculty members.
D O N O R S
Established with a generous gift from Gitta M. Kurlat for the purpose of furthering the education and professional development of the bar, with additional contributions from:
Saul Kurlat
Adam J. Ruttenberg

Make a Donation
If you wish to donate, kindly select your desired amount from the list below. You will be guided to a secure, encrypted transaction page to complete your online donation. If you are purchasing MCLE products online, your donation will be added to those transactions. Once the transaction is complete, MCLE will promptly email to you a confirmation of your tax-deductible donation. MCLE accepts all major credit cards. Please rest assured that MCLE takes very seriously its stewardship of your gift: Your online donation and account information reside in a secure environment, protected by the SSL certificate. MCLE never requests your Social Security number or other confidential information. To review MCLE's annual report, click here. For MCLE's privacy policy, click here.
If you prefer to make a donation by non-electronic means, please click here to download a pledge form that can be forwarded to:
Sal Ricciardone, Esq., Director of Philanthropy
Massachusetts Continuing Legal Education, Inc.
Ten Winter Place
Boston, MA 02108-4751