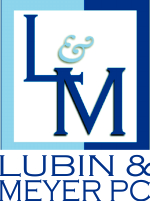 Lubin & Meyer, PC Scholarship Fund
Making a difference: Lubin & Meyer, PC renews commitment to training lawyers who serve the public interest; new gift doubles the impact of fund to underwrite 20 scholarships to MCLE programs every year to support pro bono and legal aid training
May 25, 2017—MCLE is pleased to announce a recent leadership gift from Lubin & Meyer, PC to support pro bono and legal aid training.

Since its founding in 1974, Lubin & Meyer has been recognized nationally as one of the leading medical malpractice and catastrophic personal injury law firms in the country, achieving many of the largest verdicts in state history. In addition to making a difference in the lives of its clients through thoughtful representation and superb advocacy, the firm has also made a difference in the legal profession. Its renowned commitment to quality and excellence goes beyond the representation of its clients in and outside the courtroom and to the broader legal community as well. As top experts in their field acknowledged for their creative and innovative approach to cases, members of Lubin & Meyer are regularly called upon to chair and serve as faculty on MCLE and other programs to train and educate lawyers on trial techniques and developments in medical malpractice and personal injury law.

Lubin & Meyer's commitment to the legal community does not end there. Five years ago, the firm extended its support to the training of those who serve the poor with a generous pledge of $25,000 to MCLE's scholarship program, helping MCLE reach the initial $2.5 million milestone. That gift helped to strengthen the foundation of an endowment that has now exceeded $3.3 million towards a $5 million goal to endow 2,000 scholarships annually for the benefit of legal aid staff attorneys, private practitioners who accept pro bono cases, and other deserving lawyers who, without financial assistance, would not be able to attend MCLE programs. By establishing the Lubin & Meyer Scholarship Fund in 2012, that gift alone has enabled lawyers to attend nearly 50 programs over the past five years. More recently, on the 5th anniversary of its initial leadership pledge, Lubin & Meyer has renewed its commitment by pledging an additional $25,000 to the endowment to double the fund's impact. As a result of the firm's cumulative giving, the Lubin & Meyer Scholarship Fund will provide 20 scholarships to MCLE programs every year for lawyers who serve the public interest.

Whether we're attending MCLE programs or volunteering as faculty members, we have seen firsthand how important continuing education is to lawyers and their clients. MCLE's scholarship program makes training opportunities available to those who otherwise could not afford them—specifically lawyers who, day in and day out, serve the public interest by giving a voice to the voiceless. By training and empowering more lawyers to represent low- and moderate-income clients, MCLE scholarships are making a difference. Lubin & Meyer is pleased to renew our commitment to this worthy cause and to the professional development of lawyers, particularly those who are dedicated to public service.
—Andrew C. Meyer, Jr., Esq.
 Founding Partner, Lubin & Meyer, PC
MCLE President, Amy C. Mariani, Esq., praises Lubin & Meyer for the firm's support and leadership:
Lubin & Meyer's new gift underscores the firm's long-standing commitment to the continuing education and professional development of the bar and to MCLE. Enhancing the impact of this fund is just another example of the firm's excellence and how it continues to serve as a model citizen in the legal community.
MCLE's Board of Trustees is grateful to Lubin & Meyer and all of the firm's partners for all that they do to give back to the legal profession and for their renewed support and leadership in helping MCLE in its efforts to grow its endowment so that the Commonwealth's most needy have access to the best trained lawyers.
D O N O R S
Established with a generous gift from: Lubin & Meyer, PC
Additional Contributions Made By: Gerry T. Leone, Jr.
Make a Donation
If you wish to donate, kindly select your desired amount from the list below. You will be guided to a secure, encrypted transaction page to complete your online donation. If you are purchasing MCLE products online, your donation will be added to those transactions. Once the transaction is complete, MCLE will promptly email to you a confirmation of your tax-deductible donation. MCLE accepts all major credit cards. Please rest assured that MCLE takes very seriously its stewardship of your gift: Your online donation and account information reside in a secure environment, protected by the SSL certificate. MCLE never requests your Social Security number or other confidential information. To review MCLE's annual report, click here. For MCLE's privacy policy, click here.
If you prefer to make a donation by non-electronic means, please click here to download a pledge form that can be forwarded to:
Sal Ricciardone, Esq., Director of Philanthropy
Massachusetts Continuing Legal Education, Inc.
Ten Winter Place
Boston, MA 02108-4751