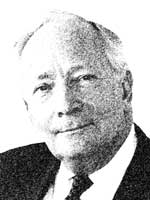 The Richard S. Milstein Scholarship Fund
Richard S. Milstein
Founding Director, Massachusetts Continuing Legal Education, Inc.; Partner, Ely & King, Springfield; Of Counsel, Robinson, Donovan, Madden & Barry, Springfield
MCLE's founder and consulting director. In 1969, he envisioned an organization that would meet lawyers' needs for practical continuing legal education in Massachusetts.

Fueled by the generosity of family, friends and colleagues, The Richard S. Milstein Scholarship Fund, established to honor the visionary founding director of MCLE, now endows more than 70 legal services and needs-based scholarships to MCLE programs annually in Mr. Milstein's name. Thanks to gifts totaling over $175,000 from more than 125 donors, this named scholarship is the largest fund administered by MCLE, creating a lasting and meaningful tribute to the remarkable man who, over 50 years ago, pioneered continuing legal education in Massachusetts.

A graduate of Harvard College and Boston University Law School, Dick served as an officer in the United States Coast Guard Reserve until 1954. Upon leaving the Coast Guard Reserve, he joined the Springfield law firm of Ely, King, Kingsbury & Corcoran, where he would come to specialize in transactional work. His excellence in the area of estate planning led to his induction as a Fellow into the American College of Trusts and Estates Counsel. It was during his early days practicing law when Dick began to see the need for practical education among lawyers. In response to a call of arms in the 1950s by ALI-ABA, a national CLE organization, he became involved with continuing legal education in Massachusetts. While maintaining a full-time law practice, he volunteered his time and administered courses for the Hampden County Bar Association. Then, in 1962, he became the first chairperson of the Massachusetts Bar Association's Education Committee. Aware of the need for a more formal CLE organization serving the entire state, he was instrumental in founding MCLE in 1969 as a joint venture of the Massachusetts and Boston Bar Associations. In the mid-1970s, after merging with the New England Law Institute, an organization created to re-train New England lawyers returning from military service, MCLE moved to Boston and, in 1978, hired its first full-time Executive Director, John M. (Jack) Reilly, the next step in ensuring its future.

Despite his robust law practice, Dick remained active in the activities and leadership of the organization. Under his stewardship and guidance, MCLE has become the premier provider of continuing legal education in Massachusetts and a model for CLE organizations across the country—from presenting a dozen courses per year and leading the way in technology with the innovative use of public television to reach lawyers around Massachusetts in the mid-1970s to more than 300 programs per year today and the increasing use of webcasts and online courses to reach lawyers across New England, the United States, and beyond. As a result of his vision, every year, thousands of lawyers—and by extension their clients—benefit from MCLE training programs and practice manuals. In recognition of his exceptional service and career-long dedication to continuing legal education, in 1997 he was honored with the prestigious Harrison Tweed Award from the American Law Institute-American Bar Association.

Committed to public and community service, Dick was instrumental in co-founding WGBY, the WGBH-affiliated public television station in western Massachusetts, and currently is a Trustee Emeritus of WGBH. He has served as a member of the boards of trustees of such diverse cultural institutions as the Springfield Library and Museum Association, Baystate Medical Center, Springfield Symphony Orchestra, the Huntington Theater, The Boston Lyric Opera, the Boston Center for Adult Education, and the Supreme Judicial Court Historical Society. For his distinguished public service and contributions to the cultural life in western Massachusetts, in 1999 he received the William Pynchon Award. Nationally, he was elected as a member of the American Law Institute and of the American Bar Foundation, organizations dedicated to the improvement of the practice of law and the education of lawyers. Locally, he served on Governor Foster Furcolo's commission to study the Uniform Commercial Code before it was adopted in Massachusetts in 1959 and on Governor Francis Sargent's Special Commission to revise the Massachusetts Securities Laws in 1970 and was later appointed by Governor Michael Dukakis as a charter member of the first Judicial Nominating Committee created to screen judicial candidates.

Among his many accomplishments, first-ranking has always been the founding and development of MCLE. Even after his formal retirement in 1998 from Springfield's Robinson, Donovan, Madden & Barry, Dick continues to influence and stay active in MCLE's affairs, where he blends his long view back with his signature optimism for the future. To this day, he advises on MCLE's strategic initiatives and long-range planning and serves as an inspiration to its 40-person staff. In recent years, one of his unique contributions has been to help lay the foundation for an endowment that funds scholarships for future generations of pro bono and legal services attorneys and other deserving lawyers who, without financial assistance, would not be able to attend MCLE programs. Therefore, the success and impact of The Richard S. Milstein Scholarship Fund, which is one of the cornerstones of MCLE's nearly $2 million scholarship endowment, provides an important milestone in securing the future of what he helped to begin over 40 years ago. Its establishment is a fitting tribute to Dick's legacy and singular contribution to the continuing education of the Massachusetts bar.

D O N O R S
Jonathan C. Abbott
Robert G. Agnoli
Mark J. Albano
The Albert Steiger Memorial Fund
Shelby E. Allen
Mikki Ansin
Allen and Joan S. Austill
Mr. & Mrs. Samuel L. Batchelder, Jr.
Eugene B. Berman
Lee Bierly & Christopher Drake
Robert P. Bigelow
Dr. & Mrs. Angelo Bilionis
James S. Bolan and Lynn M. Lieberman
Hon. Margot Botsford and S. Stephen Rosenfeld
Lee Carl Bromberg
Jack T. and Margery Caldwell
Hon. Levin H. Campbell
J.W. Carney, Jr.
Ansel B. Chaplin
Hon. Paul A. Chernoff
Gordon J. and Andrea Clagett
John F. Cogan, Jr.
Daniel R. Coquillette
T.A. Cox
Gene D. Dahmen
Fred Dale
James R. DeGiacomo
Paul S. Doherty
Charles R. Dougherty
Henry M. & Regina M. Downey
Hon. Michael S. Dukakis
Elaine M. Epstein
Grace and Ted Fey
George R. Friese and David A. Taylor
Robert J. Gaynor
Hon. Edward M. and Julie E. Ginsburg
David B. and Mina Goldberg
Herbert P. and Marylou Gray
Hon. John M. and Susan Greaney
Michael S. Greco
Joel S. Greenberg
Erik M. Gregory & Rictor K. Noren
John B. (Brad) and Patty Griffith
Lester L. Halpern
Roy A. Hammer
James E. Harvey
Hon. Herbert H. Hodos
Anne Coyne Holbach & Richard Edelman
Timothy Hollingworth & Vincent O'Neill
John B. and Patricia B. Jacoby
Hon. Rudolph and Helen K. Kass
Maurice N. Katz
Hon. George C. Keady, Jr.
Michael B. Keating
Stanley Keller
Raymond J. Kenney, Jr.
Elton & Susan Klibanoff
Edward P. Leibensperger
Antoinette E.M. Leoney
Stephen P. Lindsay
Daniel Lissner
William F. Looney, Jr.
Marjorie A. & Hon. James P. Lynch, Jr.
Hon. Sandra L. Lynch
Thomas F. & Lorraine R. Maffei
Amy Cashore Mariani
Massachusetts Bar Association
Sydell and Edward I. Masterman Fund
Mark P. McGrath
Gregor I. McGregor
Edward W. McIntyre
Dr. and Mrs. Paul McKenna
Walter H. McLaughlin
Jack Middleton
Richard S. Milstein
John O. Mirick
Charlotte M. Moskowitz
Gary R. Moskowitz
Kenneth S. Moskowitz
Robert J. Muldoon, Jr.
James G. Newell and Frederic Mintz
Rev. Dr. Barbara H. Nielsen
Russell J. Peotter
Lawrence T. Perera
James P. Pober
Practising Law Institute
Michael C.J. Putnam
Sy Caesar Raboy
Joel M. Reck
John M. (Jack) Reilly
Mr. & Mrs. John J. Remondi
Salvatore and Tamara Ricciardone
Lauren Stiller Rikleen
David B. and Barbara C. Roberts
Nancy & Ed Roberts
Robinson Donovan, P.C.
Deborah Rosenthal
Gladys M. and Jay S. Rosenthal
Alexander L. (Sandy) Ross, Jr.
Jordan S. Ruboy
Mary K. Ryan
Jeffrey B. Sagalyn
David J. Sargent
Hon. Patti B. Saris
Schmidt & Federico, P.C.
Terry Philip Segal
Alan and Phyllis Silver
Jill and David Silverstein
Joseph & Muriel Slavet
Hon. Kent B. Smith
Denise Squillante
Joan Corcoran Steiger
Craig E. Stewart
Dr. Michael Stillman & Dr. Steve Williams
Paul R. and Susan Sugarman
Hon. Charles B. Swartwood III
Hon. John A. Tierney
Gilda Tuoni Russell
William J. Vaughan
Robert C. Volante
Joseph P.J. Vrabel
William S. Wasserman
Mary E. Weber & Robert Duggan
Robin S. Weinberger
Jack L. Weissman and Joyce Mantyla
Dr. Richard and Dr. Judith Wurtman
Raymond H. Young
Hon. Hiller B. Zobel

Make a Donation
If you wish to donate, kindly select your desired amount from the list below. You will be guided to a secure, encrypted transaction page to complete your online donation. If you are purchasing MCLE products online, your donation will be added to those transactions. Once the transaction is complete, MCLE will promptly email to you a confirmation of your tax-deductible donation. MCLE accepts all major credit cards. Please rest assured that MCLE takes very seriously its stewardship of your gift: Your online donation and account information reside in a secure environment, protected by the SSL certificate. MCLE never requests your Social Security number or other confidential information. To review MCLE's annual report, click here. For MCLE's privacy policy, click here.
If you prefer to make a donation by non-electronic means, please click here to download a pledge form that can be forwarded to:
Sal Ricciardone, Esq., Director of Philanthropy
Massachusetts Continuing Legal Education, Inc.
Ten Winter Place
Boston, MA 02108-4751