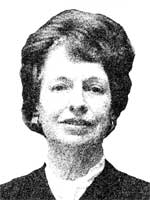 The Hon. Beatrice Hancock Mullaney Scholarship Fund
Hon. Beatrice Hancock Mullaney
Associate Justice, Bristol County Probate and Family Court

A woman who broke barriers while giving much to the families who appeared before her.
The Hon. Beatrice Hancock Mullaney Scholarship Fund honors and pays tribute to a caring jurist whose service on the bench was characterized by deep interest in the welfare of the families who appeared before her.
Judge Mullaney became Massachusetts' first woman probate and family court judge in 1955. Prior to serving on the bench, she practiced law in Fall River and served as an assistant attorney general in the late 1940s. Active in her political party, she had a natural inclination toward civic affairs. Judge Mullaney was a person of conviction who was not hesitant to articulate her sense of justice and fairness: In the 1940s, she wrote a letter to then President Harry S. Truman, criticizing the economic regulatory reforms of the "Fair Deal" era. Her letter was widely read in Washington and entered into the Congressional Record in March of 1949.
Judge Mullaney received her law degree from Boston University in 1928, and also held honorary degrees from both Southeastern Massachusetts University and Stonehill College. She practiced her Roman Catholic faith as a parishioner of St. Joseph Church in Fall River and St. John the Baptist Church in Westport. Judge Mullaney and her husband, the late Joseph E. Mullaney, raised three sons and two daughters.
MCLE honors the memory of Beatrice H. Mullaney with a scholarship fund that provides lawyers access to the highest quality of continuing legal education available in Massachusetts. Proceeds from donations made to the Honorable Beatrice H. Mullaney Scholarship Fund will help to provide needs-based scholarships for lawyers who seek to improve their advocacy skills through continuing legal education. Donations to the Fund are a gesture of respect and recognition to a forerunner in Massachusetts probate and family law -- a woman who broke barriers in her profession, while also giving so much to the families whose lives she helped through her service on the bench.
D O N O R S
Leland J., Jr. & Martha N. Adams
Joseph E. Mullaney & Family
Make a Donation
If you wish to donate, kindly select your desired amount from the list below. You will be guided to a secure, encrypted transaction page to complete your online donation. If you are purchasing MCLE products online, your donation will be added to those transactions. Once the transaction is complete, MCLE will promptly email to you a confirmation of your tax-deductible donation. MCLE accepts all major credit cards. Please rest assured that MCLE takes very seriously its stewardship of your gift: Your online donation and account information reside in a secure environment, protected by the SSL certificate. MCLE never requests your Social Security number or other confidential information. To review MCLE's annual report, click here. For MCLE's privacy policy, click here.
If you prefer to make a donation by non-electronic means, please click here to download a pledge form that can be forwarded to:
Sal Ricciardone, Esq., Director of Philanthropy
Massachusetts Continuing Legal Education, Inc.
Ten Winter Place
Boston, MA 02108-4751