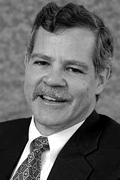 The John C. Sikorski Scholarship Fund
John C. Sikorski
Partner, Robinson Donovan, PC, Springfield, MA
The embodiment of professionalism and a force in labor and employment law, he approached everything he did with a commitment to excellence.
As a result of a generous leadership gift from the law firm of Robinson Donovan, PC, to honor the memory of a friend, former partner, and esteemed colleague who, for more than 25 years, served the firm, its clients and the entire community with expertise, enthusiasm and sincere dedication, Massachusetts Continuing Legal Education, Inc. (MCLE) is pleased to announce the establishment of the John C. Sikorski Scholarship Fund. Scholarships from this fund will benefit legal services staff attorneys, private practitioners who accept pro bono cases and other deserving lawyers who, without financial assistance, would not be able to attend MCLE programs, including those in the areas of labor and employment law and trial advocacy.

John was a great lawyer, wonderful partner and dear friend. We truly miss him, not only for his legal expertise, but also for his larger-than-life presence and the example he set for all of us—both at the firm and in the community—to keep striving to be not only a better lawyer, but a better person too. On the occasion of the second anniversary of his untimely passing, we are pleased to be able to help create this lasting and meaningful tribute to him and find it particularly fitting given his enthusiastic involvement at MCLE over the years, reflecting his commitment to continuing legal education as an essential foundation for the professional development of lawyers.

Jeffrey L. McCormick, Managing Partner, Robinson Donovan, PC

A senior partner with Robinson Donovan, PC, John Sikorski was renowned for his abilities and experience as Western Massachusetts' preeminent expert on labor and employment law. John was devoted to his work, his clients, and the people around him. Committed to excellence, he was always striving for and encouraging others towards it. He graduated magna cum laude from Harvard in 1974 and from New York University School of Law in 1979, where he took part in the battle to free the Teamsters Union from the grip of organized crime. John first served as Assistant District Attorney in Philadelphia from 1979 to 1981, then as Assistant Counsel for the New York State Commission of Investigation from 1981 to 1982, where he investigated Labor-Management racketeering. In 1982, he joined Robinson Donovan, PC (then Robinson Donovan Madden and Barry) in Springfield, Massachusetts, where he became a senior partner and mainstay at the firm. John's dedication to Robinson Donovan was reflected in his work ethic and involvement in virtually all of the firm's initiatives, playing a vast number of roles while leaving an indelible impression on the firm and his coworkers.

An effective litigator and compassionate advisor to businesses and their executives, he received many accolades and was annually listed in The Best Lawyers in America as well as in Boston Magazine's Massachusetts Super Lawyers. A member of the Hampden County, Hampshire County, Massachusetts, Federal, and American Bar Associations, and a former president of both the Harvard Radcliffe Club of Western Massachusetts and the Pioneer Valley Korean American Cultural Exchange, John's influence and contributions have had a pervasive impact on the both the legal and surrounding communities. Above all else, John was a beloved family man, a devoted husband to Anne Bures and wonderful father to Kristi and Kimberly.

In addition to practicing law, John was generous in sharing his time, skills and knowledge with others. He was an avid believer in career-long continuing legal education, both as a teacher and a student. His contributions to CLE and the professional development of lawyers were demonstrated by his commitment as a mentor to younger attorneys in the firm and his active participation in seminars and programs for numerous business and legal groups, including more than 20 programs for MCLE. It is the hope of MCLE and his partners at Robinson Donovan that endowing scholarships every year in John's name to help train public interest lawyers who represent underprivileged and traditionally underserved populations and give voice to some of the most vulnerable members of our society stands as a meaningful and appropriate way to demonstrate our admiration for this remarkable man while perpetuating his legacy within the Massachusetts legal community.

DONORS
Established by a leadership gift from Robinson Donovan, P.C. in honor of the firm's former partner, along with additional contributions from:
Raymond D. Conforti
Henry M. & Regina M. Downey
Hassett & Donnelly, P.C.
Robinson Donovan, P.C.

Make a Donation
If you wish to donate, kindly select your desired amount from the list below. You will be guided to a secure, encrypted transaction page to complete your online donation. If you are purchasing MCLE products online, your donation will be added to those transactions. Once the transaction is complete, MCLE will promptly email to you a confirmation of your tax-deductible donation. MCLE accepts all major credit cards. Please rest assured that MCLE takes very seriously its stewardship of your gift: Your online donation and account information reside in a secure environment, protected by the SSL certificate. MCLE never requests your Social Security number or other confidential information. To review MCLE's annual report, click here. For MCLE's privacy policy, click here.
If you prefer to make a donation by non-electronic means, please click here to download a pledge form that can be forwarded to:
Sal Ricciardone, Esq., Director of Philanthropy
Massachusetts Continuing Legal Education, Inc.
Ten Winter Place
Boston, MA 02108-4751