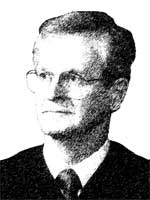 The Honorable Walter Jay Skinner Scholarship
Hon. Walter Jay Skinner
U.S. District Court, District of Massachusetts

Admired for his evenhanded, eloquent opinions, he was a judge who tempered intellectual gravity with profound humility.
MCLE and the family, colleagues, law clerks and many friends of Hon. Walter Jay Skinner have joined together to establish a scholarship fund in the late jurist's honor. The Honorable Walter Jay Skinner Scholarship Fund celebrates the life and work of a judge known for his intellect, his generosity, and his profound respect for the human dignity of the litigants who appeared before him in the U.S. District Court for the District of Massachusetts.
Born in Washington, DC, and a long-time resident of Massachusetts, Judge Skinner was known by many for his superior work ethic. In his personal life, his eloquence and creativity were apparent through his writing and painting. Judge Skinner's memory lives on through his wife, Sylvia; a daughter, Sarah; three sons, Stephen, Jonathan and Thomas; and five grandchildren. He is fondly remembered by colleagues; and especially by the many lawyers who had the honor to clerk for him over the years.
Judge Skinner was a senior United States District Court judge, having been appointed to the federal bench in 1974. Prior to his work as a federal court judge, Judge Skinner served the Commonwealth of Massachusetts as an assistant attorney general under Edward W. Brooke, heading up that office's criminal division, and earlier as an assistant district attorney for Plymouth County. Directly after graduating from Harvard Law School in 1952, he entered into private practice in the offices of Gaston, Snow, Rice & Boyd and later, in his own law firm.
Judge Skinner presided over many notable cases during his career as a judge, including a complex land dispute brought by the Wampanoag tribe of Mashpee, the controversial Woburn superfund case, and a landmark decision concerning deplorable conditions in Norfolk and Essex County jails.
In a tribute to Judge Skinner on the occasion of the Judge's 30th anniversary on the bench in 1994, former law clerk Will Brownsberger said, "He remains for me the epitome of what a judge should be - serious, fair, unimpressed by air, but free of arrogance and endowed with both humor and a feel for the real meaning of our Constitution." Former law clerk Jackie Frankfurt likewise spoke of Judge Skinner with the highest regard: "It is rare to see a judge with such integrity, intelligence and - truly unique - lack of ego. I feel lucky to have had the opportunity to work with a man devoted solely to resolving the dispute before him in a manner that is thoughtful, fair and just - both for the parties and for society at large."
The Honorable Walter Jay Skinner Scholarship Fund will help to provide lawyers with access to the highest quality of continuing legal education available in Massachusetts.
D O N O R S
Robert B. Allensworth
Mr. and Mrs. Michael Astrue
Joseph J. Balliro
Mr. & Mrs. Samuel L. Batchelder, Jr.
Robert P. and Katharine M. Bigelow
Cynthia D. Bogorad
William N. Brownsberger
Thomas D. Burns
Hon. Levin H. Campbell
Lawrence G. Cetrulo
Gabriel D. M. Ciociola
Barbara D. Clarke
Marie L. Cloonan
Robert K. Crabtree
Hon. John C. & Holly B. Cratsley
Bruce R. Deming
Linda DeRenzo
Daniel J. Driscoll
Richard M. Egbert
Catherine Adams Fiske
Foley Hoag LLP
Jaclyn S. Frankfurt
John A. Freedman
Eugenie and Bradford Gentry
Jean M. Hanson
Andrew P. Hier
Seth D. Jaffe and Genia Long
Dennis J. Kelly
Kenneth D. Kleinman
Rikki J. Klieman
Philip Lyons
Gael Mahony
Thomas Mueller
Robert J. Muldoon Jr.
Colin Owyang
Lydia C. and John A. Perkins
Richard G. Pichette
Murray L. Sackman
Sylvia H. Skinner and Family
Eric A. Smith
David F. Taylor
Hon. Mark L. and Lynne L. Wolf
Edward Wu
Make a Donation
If you wish to donate, kindly select your desired amount from the list below. You will be guided to a secure, encrypted transaction page to complete your online donation. If you are purchasing MCLE products online, your donation will be added to those transactions. Once the transaction is complete, MCLE will promptly email to you a confirmation of your tax-deductible donation. MCLE accepts all major credit cards. Please rest assured that MCLE takes very seriously its stewardship of your gift: Your online donation and account information reside in a secure environment, protected by the SSL certificate. MCLE never requests your Social Security number or other confidential information. To review MCLE's annual report, click here. For MCLE's privacy policy, click here.
If you prefer to make a donation by non-electronic means, please click here to download a pledge form that can be forwarded to:
Sal Ricciardone, Esq., Director of Philanthropy
Massachusetts Continuing Legal Education, Inc.
Ten Winter Place
Boston, MA 02108-4751