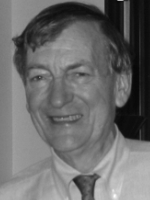 The Brownlow M. Speer Scholarship Fund
Brownlow M. Speer
Chief Appellate Attorney, Committee for Public Counsel Services
Tireless champion of equal justice under the law, relentless advocate for the indigent, and model teacher and mentor.
Massachusetts Continuing Legal Education, Inc. (MCLE) is pleased to announce the establishment of the Brownlow M. Speer Scholarship Fund to honor and pay tribute to a model professional whose tireless efforts on behalf of indigent defendants and commitment to the education and training of others exemplified the best of our profession's rich legal heritage. MCLE is grateful to the committee of Browny's close friends and colleagues who have joined together to help launch this scholarship fund in his honor: Hon. Christopher J. Armstrong (ret.); J. W. Carney, Jr., Esq.; L. Scott Harshbarger, Esq.; Frank R. Herrmann, S.J.; William J. Leahy, Esq.; Elizabeth A. Lunt, Esq.; Arnold R. Rosenfeld, Esq.; Martin R. Rosenthal, Esq.; Nona E. Walker, Esq.
A 1970 Harvard Law School graduate, Browny spent the majority of his 40-year career as a public defender representing the indigent. A giant in the criminal law and appellate practice bars, he served as chief of the Massachusetts Public Defender Appeals Unit at the Massachusetts Defenders Committee (later the Committee for Public Counsel Services) since 1979, in which capacity he appeared for the defendant in over 200 oral arguments in Massachusetts appellate courts.
His influence on the legal system and the practice of law in Massachusetts extends beyond his advocacy for equal justice and the constitutional rights of the accused. Appointed executive director of the staff of the Select Committee on Judicial Needs (the Cox Commission) in 1976, he played a direct role in the subsequent passage of the 1978 Court Reorganization Act, which transformed the structure of the Massachusetts court system. He provided guidance and assistance in the case of Lavallee v. Justices in the Hampden Superior Court, which resulted in the Supreme Judicial Court's historic 2004 decision that the inadequate hourly rates of assigned criminal defense counsel violated the constitutional right of indigent defendants to the effective assistance of counsel and led to an increase in hourly rates received by assigned counsel. Moreover, he devoted much of his career to training, mentoring, and inspiring other lawyers, beginning in 1974 as the training director of the Massachusetts Defenders Committee, where he developed that organization's first comprehensive training module. He was also an active participant in CLE programs around the state, including at MCLE, where he presented in more than a dozen criminal and appellate practice programs.
For his outstanding service as a lawyer and advocate, he received many awards and honors during his impressive career, including the National Legal Aid & Defender Association's prestigious Kutak-Dodds Prize in 2005 for his significant contributions to the enhancement of human dignity and quality of life of those persons unable to afford legal representation and his outstanding dedication to the pursuit of justice for America's low-income communities. More locally, he received CPCS's Edward J. Duggan Award in 1988, the Boston Bar Association's John G. Brooks Award for Legal Services in 1996, CPCS's Clarence E. Gideon Award for Outstanding Public Service in 2013 and, during that same year, was the first recipient of the Massachusetts Association of Criminal Defense Lawyers' newly-created Brownlow M. Speer Award for Appellate Advocacy.
The Brownlow M. Speer Scholarship Fund will endow scholarships every year to enable deserving lawyers who serve the public interest, including legal aid staff attorneys and practitioners who accept pro bono cases, to attend MCLE programs—a fitting tribute to a remarkable advocate who dedicated his career to representing low-income clients and to training others to do the same, as well as a meaningful way to demonstrate our admiration and gratitude for his inspiring example.
Browny touched and influenced the lives and careers of so many in the legal community. As we continue to build this fund in lasting tribute to him, please join us in honoring him by making a tax-deductible contribution to the Brownlow M. Speer Scholarship Fund. To contribute, click on the button below or contact Sal Ricciardone, Esq., MCLE Director of Philanthropy & Special Projects, at 617-896-1596.
D O N O R S
Bonnie G. Allen
Anonymous
Laura M. Banwarth
Anthony J. Benedetti
Andrew L. Benson
Rene G. Brown
Carol Cahill
Daniel E. Callahan III
J. W. Carney, Jr.
Hon. John C. & Holly B. Cratsley
William D. Crowe
Hon. John J. Curran, Jr.
Hon. Elspeth B. Cypher
Michael L. Dash
William D. Donohue
Beth L. Eisenberg
Hon. Michael L. Fabbri
Richard J. Fallon
John A. Fennel
Bruce E. Ferg
Paul J. Garrity
Hon. Jennifer L. Ginsburg
Stan Goldman
Stuart W. Graham
Constance Rudnick Grayson
Nathaniel K. Green
L. Scott Harshbarger
Nadell Hill
David B. Hirsch
David M. Hodge
David P. Hoose
Emanuel Howard
Stephen B. Hrones
David Jellinek
Hon. Rudolph & Helen Kass
Benjamin H. Keehn
Stanley Keller
Daniel Klubock
Andrew M. Klyman
Krasnoo|Klehm LLP
Joseph F. Krowski, Jr.
Ann K. Lambert
Jon B. Laramore
William J. Leahy
Levitt Law Group
Larni Levy
Jane Kenworthy Lewis
Hon. Stephen M. Limon
Judith Lindahl
Elizabeth A. Lunt
Lawrence W. Madden
Stephen Paul Maidman
Michael Malkovich
Jonathan L. Mannina
Lois J. Martin
Hon. Lawrence E. McCormick
Lawrence J. McGuire
Hon. James F. McHugh III
Hon. James R. Milkey
John Palmer Moss
Carlo A. Obligato
Leslie W. O'Brien
Raymond A. O'Hara
Kevin P. O'Malley
John P. Osler
Stephanie Page
Jacqueline Y. Parker
Janet Heatherwick Pumphrey
Ann E. Rascati
Denise Regan
John M. (Jack) Reilly
Arnold Rosenfeld
Professor David Rossman
Joseph F. Savage
Ryan M. Schiff
A. Hugh Scott
J. Drew Segadelli
Dennis A. Shedd
Michael R. Schneider
Harvey A. Silverglate
Stacy J. Silveira
Andrew Silverman & Molly Paul
David M. Skeels
John G. Swomley
Jeffrey Travaline
Ariane D. Vuono
Nona E. Walker
Robert Weiner
Hon. Herbert P. Wilkins
Joan M. Williams
David R. Yannetti
W. Alan Zwirblis
Make a Donation
If you wish to donate, kindly select your desired amount from the list below. You will be guided to a secure, encrypted transaction page to complete your online donation. If you are purchasing MCLE products online, your donation will be added to those transactions. Once the transaction is complete, MCLE will promptly email to you a confirmation of your tax-deductible donation. MCLE accepts all major credit cards. Please rest assured that MCLE takes very seriously its stewardship of your gift: Your online donation and account information reside in a secure environment, protected by the SSL certificate. MCLE never requests your Social Security number or other confidential information. To review MCLE's annual report, click here. For MCLE's privacy policy, click here.
If you prefer to make a donation by non-electronic means, please click here to download a pledge form that can be forwarded to:
Sal Ricciardone, Esq., Director of Philanthropy
Massachusetts Continuing Legal Education, Inc.
Ten Winter Place
Boston, MA 02108-4751