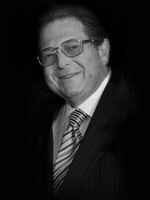 The Edward M. Swartz Scholarship Fund
Edward M. Swartz
Founder, Swartz & Swartz, PC, Boston
Nationally-recognized crusader and product safety advocate who put his heart and soul into being the voice for those who do not have a voice.
It is with great sadness that MCLE joins the Massachusetts legal community in mourning the loss of one of its – and, indeed, the country's – most respected trial attorneys, who died on September 3, 2010. As a result of a generous leadership gift from Swartz & Swartz, PC, to honor the memory of their founder and mentor, MCLE is establishing a named scholarship fund in tribute to an outstanding lawyer and consumer advocate whose unique legal acumen, immense courtroom presence, and ground-breaking cases helped establish products liability as a distinct area of law. His tenacity and remarkable drive led to the implementation of products safety protocols and advances in toy safety regulations that have positively affected the lives of many families. Scholarships from this fund will help train legal services staff attorneys, practitioners who accept pro bono cases, and other deserving lawyers who, without financial assistance, would not be able to attend MCLE programs.

"Ed was an outstanding advocate, wonderful mentor, and, above all, a great father and family man. On behalf of the firm he built, I am pleased to be able to help create this lasting and meaningful tribute to him. Establishing a scholarship fund in his name that helps train lawyers who serve the public's interest and represent the poor is particularly fitting given Ed's commitment to the continuing education of the entire legal community, his zeal to protect the public from harm, and his passion to be a voice for people who didn't have a voice." - James A. Swartz, Esq., Swartz & Swartz, PC

A Chelsea, Massachusetts, native who worked his way through school selling magazines, pots and pans, pillows, and encyclopedias, Mr. Swartz earned his bachelor's degree from the University of Massachusetts at Amherst and went on to receive his law degree, magna cum laude, from Boston University School of Law and his master of laws as a W.C. Cook Fellow at the University of Michigan Law School. Having served as an Assistant Attorney General from 1963-1965 under Attorney General Edward Brooke, he founded the law firm of Swartz & Swartz in 1972 and over the years tried many record-setting, landmark products liability cases throughout the country. His efforts as one of the nation's foremost consumer advocates and primary movers in products liability law directly resulted in the banning or redesigning of thousands of unsafe products.

Committed to making a difference with regard to matters of public safety and civil justice, he instilled in his colleagues the importance of striving to change laws and set legal precedents that would benefit future generations. Author of Toys that Kill (1986) and Toys that Don't Care (1971), among numerous other books and articles, he began publishing his annual "10 Worst Toys" list in 1973 to alert the public about the dangers of unsafe toys, which has since become a must-read for every parent. In 1985, he founded World Against Toys Causing Harm, Inc. (W.A.T.C.H.), a nonprofit organization dedicated to children's causes that creates educational programs for elementary school children about toy safety, consumer responsibility, and greater world issues.

Driven to educate the public, in addition to his prolific writing, Mr. Swartz appeared on dozens of national programs and talk shows speaking on issues of child and public safety and was profiled in many local and national publications. For his work on protecting children, the Henry Ford Museum dedicated a section of its exhibit, "Made in America," to this crusading lawyer. Understanding the impact lawyers can make, he was committed to the professional development of the bar. A member of several professional and bar associations, he served as an adjunct professor at Boston University School of Law and participated on many CLE panels. For MCLE, he served as a faculty member on personal injury and products liability programs and was a contributing author on the Massachusetts Tort Law Manual.

True to his teaching, his impact on the law and on the clients he served so passionately for over four decades is immeasurable and will live on, literally, for generations to come. It is the hope of his colleagues at Swartz & Swartz, PC and MCLE that creating this fund in Mr. Swartz's name to help train public interest lawyers who represent and give voice to some of the most vulnerable members of our society stands as an appropriate way to demonstrate our admiration for this remarkable man and all his accomplishments while perpetuating his legacy within the Massachusetts legal community.
D O N O R S
Established in 2011 by a generous gift from Swartz & Swartz, PC., with additional contributions from:
Crowe & Mulvey LLP
Henry L. Grossman
Ann Maas
Daniel & Julie Rosenfeld
James A. Swartz
Make a Donation
If you wish to donate, kindly select your desired amount from the list below. You will be guided to a secure, encrypted transaction page to complete your online donation. If you are purchasing MCLE products online, your donation will be added to those transactions. Once the transaction is complete, MCLE will promptly email to you a confirmation of your tax-deductible donation. MCLE accepts all major credit cards. Please rest assured that MCLE takes very seriously its stewardship of your gift: Your online donation and account information reside in a secure environment, protected by the SSL certificate. MCLE never requests your Social Security number or other confidential information. To review MCLE's annual report, click here. For MCLE's privacy policy, click here.
If you prefer to make a donation by non-electronic means, please click here to download a pledge form that can be forwarded to:
Sal Ricciardone, Esq., Director of Philanthropy
Massachusetts Continuing Legal Education, Inc.
Ten Winter Place
Boston, MA 02108-4751