MCLE will be closed Monday January 15, 2018 in Observance of Martin Luther King Jr. Day. Mindfulness for Lawyers has been rescheduled to Friday January 19, 2018 from 1:00pm to 5:00pm.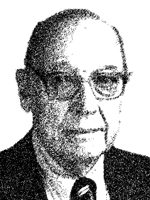 The Herbert W. Vaughan Scholarship Fund
Herbert W. Vaughan
Partner, Wilmer Cutler Pickering Hale and Dorr LLP

Counsel to lenders, developers, landlords and tenants, his service to his clients helped shape the landscape of Boston's skyline since the 1950s; a dean of the real estate bar, his service as a leader and mentor helped shape the development of lawyers for generations to come.
D O N O R S

Created by a leadership gift from Herbert "Wiley" Vaughan as a vehicle to fund scholarships in perpetuity to MCLE programs with the purpose of furthering the education and professional development of the bar, with additional contributions made in the names of:
Jacquelyn Waters Adams
Joanna G. Allison
Paul F. Alphen
Kevin A. Atwood
Christopher N. Banthin
Elizabeth J. Barton
George A. Berman
Thomas Bhisitkul
Gregory P. Bialecki
Erica P. Bigelow
Edward M. Bloom
Mark William Bracken
Arthur D. Brecher
Douglas J. Brunner
Marianne C. Byrne
Joseph A. Camillo, Jr.
Barbara R. Chandler
Tyler E. Chapman
Cynthia Collins
Daniel C. Crane
Leo J. Cushing, Esq
Hon. Judith C. Cutler
Sara G. Curley
Allison West Dalton
Jon S. Davis
Lisa J. Delaney,Esq
Michael Joseph Donovan
Jennifer V. Doran, Esq.
Rodney S. Dowell. Esq.
Mary K. Eaton
Amanda S. Eckoff
Stephen M. Edwards
Deborah A. Eliason
Benjamin J. Ericson
Adam D. Fine
Wendy M. Fiscus
Christine Flynn
Helen M. Foley-Bousquet
Susan W. Foner
Margaret M. Fortuna
Hon. Robert B. Foster
Suzanne Fredericks
Robert T. Gill
Michael J. Goldberg
Neil D. Golden
Ward P. Graham
Eugene Gurvits
Richard Heller
Hon. Margaret R. Hinkle
Richard A. Hogan
Michael Holiday, Esq
Scott W. Horsley
Kurt A. James
Carl F. Jenkins
Danielle M. Justo
Hon. Rudolph Kass
April Anderson Lamoureux
Lealdon Langley
Philip S. Lapatin
Chiara Urbani Laplume
Susan B. LaRose
Charles N. Le Ray
Darren M. Lee
Hon. Keith C. Long
Thomas M. Looney
Ann Lowery
William F. Lyons, Jr.
Michael D. MacClary
Kathleen MacNeil
Jennifer A. Maggiacomo
Jennifer L. Markowski
Clive D. Martin
Craig J. Martin
Gregor I. McGregor
Michelle A. McHale
Mary-Margaret Moniz
Julie Taylor Moran
Robert J. Moriarty, Jr.
Thomas O. Moriarty
Kathryn M. Morin
John T. Morrier
David K. Moynihan
Robert J. Muldoon, Jr.
Paul J Mulligan
Kevin F. Murphy
Francis J. Nolan
Kathleen M. O'Donnell
Scott C. Owens
Evelyn J. Patsos
Donald R. Pinto, Jr.
Christopher S. Pitt
Christopher L. Plunkett
Nicole Clawson Pratt
Terrence D. Pricher
Edward A. Rainen
Real Estate Bar Association Foundation, Inc
Joel M. Reck
Theodore C. Regnante
John M. (Jack) Reilly
Roxanne Edick Richard
Rebecca C. Richardson
Michael J. Ring
John T. Ronayne
Donald H. Rousseau
Diane R. Rubin
Robert M. Ruzzo
Mary K. Ryan
Douglas W. Salvesen
Chief Justice Karyn F. Scheier
Richard M. Serkey
Laurel H. Siegel
James A. Sifflard
Michelle T. Simons
John J. Slater III
Edward J. Smith
James Smith
Jack I. Smolokoff
Daniel St. Clair
Joel A. Stein
Sophie Stein
Michael J. Stone
Jason R. Talerman
Hon. Charles W. Trombly
David C. Uitti
Richard D. Vetstein
Emil Ward
George J. Warshaw
Mindee Wasserman
Gregory P. Watson
Sarah Weinstein
John M. Welch
Rachelle D. Willard
Edmund A. Williams
Amanda Zuretti

Make a Donation
If you wish to donate, kindly select your desired amount from the list below. You will be guided to a secure, encrypted transaction page to complete your online donation. If you are purchasing MCLE products online, your donation will be added to those transactions. Once the transaction is complete, MCLE will promptly email to you a confirmation of your tax-deductible donation. MCLE accepts all major credit cards. Please rest assured that MCLE takes very seriously its stewardship of your gift: Your online donation and account information reside in a secure environment, protected by VeriSign®. MCLE never requests your Social Security number or other confidential information. To review MCLE's annual report, click here. For MCLE's privacy policy, click here.
If you prefer to make a donation by non-electronic means, please click here to download a pledge form that can be forwarded to:
Sal Ricciardone, Esq., Director of Philanthropy
Massachusetts Continuing Legal Education, Inc.
Ten Winter Place
Boston, MA 02108-4751