OVERVIEW | COURSE SCHEDULE & INFORMATION | AGENDA | RESOURCE MATERIALS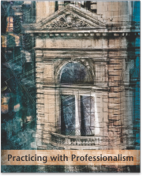 A mandatory one-day course
for new lawyers on the
Massachusetts Rules
of Professional Conduct
and Massachusetts Practice
Practicing with Professionalism
Completion of your Rule 3:16 requirement—and much more
Observance of the highest ethical standards, proficiency in essential elements of law practice, and engagement in the legal community are among the hallmarks of professionalism. MCLE's Practicing with Professionalism course brings these principles to life through video, lecture, interactive polling, compelling hypotheticals, and valuable best practices.
SJC Rule 3:16 requires all newly admitted lawyers in Massachusetts to complete a one-day mandatory professionalism course within 18 months of admission. Spend this day with MCLE and build a foundation in professionalism that will serve you throughout your career.
Program highlights
An introductory video featuring Massachusetts judges and lawyers sharing their insights on professionalism and what it means to be a Massachusetts lawyer.
A nationally recognized ethics trainer, Jack Marshall, using interactive discussion and specially tailored hypotheticals to highlight the distinctive elements of ethical practice in Massachusetts.
An address by a leading member of the Massachusetts judiciary on the court system and the role of professionalism in Massachusetts practice.
Presentations by experts on how to manage a law practice and develop successful attorney-client relationships, how the bar's disciplinary system works, and how to handle client funds.
Information on professional organizations and pro bono practice—opportunities for connecting and contributing.
An introduction to lawyer assistance resources—where you can find support for stress, addiction, and mental health concerns.
An opportunity to spend lunch (provided by MCLE) in breakout discussion groups for a Q&A session with experienced practitioners in the areas of business and real estate law, estate planning and family law, and criminal and civil litigation.
Course information
Fee $50
Dates
MCLE is offering Practicing with Professionalism on the following dates:
The program runs from 9:00 a.m. to 5:00 p.m., with check-in beginning at 8:00 a.m. Late arrivals will not be permitted to enter the program.
Location
All presentations are held at MCLE's Conference Center, Ten Winter Place, via Winter Street, Boston, MA 02108.
Register today
Register and reserve your seat in any of the remaining sessions. Space is limited. To ensure you get your preferred date, register as soon as possible. Your online registration must be received by no later than 7:00 a.m. on the day of the program. Registrations will not be accepted at the door.
Attendance Policy
Attendance at this program, per SJC Rule 3:16, is a post-admission requirement. Only those already admitted to the Massachusetts bar will receive credit for the course; anyone not yet admitted to the bar will have to retake the course after admission.
Attendance at the entire program is required. Registrants who arrive after the course has commenced will not be permitted to attend the day's program, but must register for another course date.
Course agenda*

8:00 a.m. – 9:00 a.m.
Check in (breakfast provided by MCLE)


9:00 a.m. – 9:05 a.m.
Introductory Remarks

9:05 a.m. – 9:15 a.m.

Practicing with Professionalism Video Montage
MCLE Faculty

9:15 a.m. – 9:45 a.m.

Professionalism and Being a Massachusetts Lawyer, with an Overview of the Massachusetts Court System
MCLE Faculty

9:45 a.m. – 10:45 a.m.

Massachusetts Rules of Professional Conduct and How They Differ from the Model Rules, Part I
MCLE Faculty

10:45 a.m. – 11:00 a.m.

Refreshment Break

11:00 a.m. – 11:45 a.m.

Massachusetts Rules of Professional Conduct, Part II
MCLE Faculty

11:45 a.m. – 12:20 p.m.

Managing the Attorney-Client Relationship, Including Social Media Do's and Don'ts
MCLE Faculty

12:20 p.m. – 1:40 p.m.

Lunch Break (box lunch provided by MCLE)

Grab a lunch and join a discussion group in one of three classrooms for a Q&A session and the opportunity to meet with experienced practitioners from across several key practice areas:


Business Law & Real Estate
MCLE Faculty

Family Law & Estate Planning
MCLE Faculty

Litigation (Civil & Criminal)
MCLE Faculty

1:40 p.m. – 1:50 p.m.

In the Court's Own Words (video)
Featuring Justices of the Supreme Judicial Court

1:50 p.m. – 2:25 p.m.

Overview of the Bar Discipline System & Common Ethical Issues
Office of Bar Counsel/Board of Bar Overseers, Commonwealth of Massachusetts

2:25 p.m. – 2:50 p.m.

Why Every Lawyer Should Be Interested in Cultural Competency
MCLE Faculty

2:50 p.m. – 3:35 p.m.

Law Office Management
Massachusetts Law Office Management Assistance Program (LOMAP), Boston

3:35 p.m. – 3:50 p.m.


Refreshment Break


3:50 p.m. – 4:10 p.m.

The Importance and Rewards of Pro Bono Work
Volunteer Lawyers Project of the Boston Bar Association, Boston

4:10 p.m. – 4:30 p.m.

General and Affinity Bar Associations and Mentoring Programs
MCLE Faculty


4:30 p.m. – 4:50 p.m.

Lawyers Concerned for Lawyers
Lawyers Concerned for Lawyers, Boston

4:50 p.m. – 5:00 p.m.
Closing Remarks/Completion of Program Evaluation

*Note: agenda and speakers will vary depending on which session you attend
Resource materials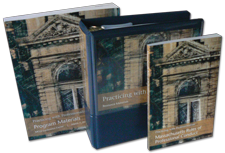 A major advantage of taking the Practicing with Professionalism course at MCLE is the rich compilation of resource materials—provided in print and electronic formats—over 1,000 pages of original articles from existing MCLE publications, and materials from a number of regulatory agencies and professional organizations.
These publication serve not only as a valuable companion for the course, but also as a continuing resource for research and reference in daily practice.