Timekeeping & Billing Software: Tech2Practice
Using top tech to track time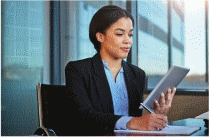 Product Number: 2190334WBC
CLE Credits, earn up to:
2 substantive credits, 0 ethics credits

CLE Credit Note

Add to Favorites List
Also Available:

Made to order; please allow up to 2 weeks for delivery.
No supporting materials included.
$125.00; Sponsor Members $112.50; New Lawyers $93.75

On demand video and audio recordings
Available for purchase after Tuesday, 5/14/2019 for instant access to this program.
Product Description
Agenda & Materials
Faculty
Pricing
Product Description

Product Description

Tech2Practice is an innovative series of robust practice development programs designed to assist your law practice by boosting your efficiency through the utilization of technology in practical and creative ways. This program is deliberately and meticulously crafted to suit the needs of all lawyers regardless of their area of practice.

According to a study conducted by LexisNexis, solo and small firms lose over 40% of billable time due to poor time tracking. It is essential for firms to develop strong time keeping systems and billing processes to ensure success and stability. Technology is key to time tracking and billing. In this Tech2Practice program, you learn about best modern practices for time keeping and billing, including demonstration of technology tools and workflows to streamline your processes.

Agenda

Agenda & Materials

12:00 pm - 12:05 pm

12:05 pm - 12:30 pm

Importance of Good Time Tracking and Billing Practices

12:30 pm - 12:55 pm

Pain Points in Time Tracking and Billing

12:55 pm - 1:20 pm

Demonstration of Technological Tools to Improve Time Tracking and Billing

1:20 pm - 1:45 pm

Building Strong Workflows and Implementing Technological Tools for Time Tracking and Billing

1:45 pm - 2:00 pm

Please Note

MCLE webcasts are delivered completely online, underscoring their convenience and appeal. There are no published print materials. All written materials are available electronically only. They are posted 24 hours prior to the program and can be accessed, downloaded, or printed from your computer.

Faculty

Pricing

Fees

$112.50 - MCLE Sponsor Member
$93.75 - New Lawyer
$93.75 - Pending Admittee
$93.75 - Law Student
$93.75 - Paralegal
$125.00 - All Others

Available FREE with an MCLE OnlinePass® subscription.
TOP