Courtroom Presence
Presentation techniques to command performance and win the day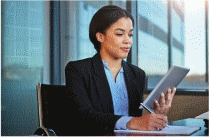 Product Number: 2200067WBC
CLE Credits, earn up to:
3 substantive credits, 0 ethics credits

CLE Credit Note

Add to Favorites List
Also Available:

Made to order; please allow up to 2 weeks for delivery.
No supporting materials included.
$165.00; Sponsor Members $148.50; New Lawyers $123.75

On demand video and audio recordings
Available for purchase after Tuesday, 10/8/2019 for instant access to this program.
Product Description
Agenda & Materials
Faculty
Pricing
Product Description

Product Description

Persuasive oral advocacy—whether at trial or during important hearings—requires a strong presence in the courtroom. Developing and possessing a confident, undeniably credible style and demeanor is critical to any presentation in your courtroom. Whether a judge or a jury is your audience, you must be aware of how you are perceived in court.

This program helps you discover and enhance your own professional image by learning about the communication styles and techniques that win from the lawyers with a proven record of doing so. Learn from the experts how differing styles can be effective and that there is no one-size-fits-all approach that works for everyone. Hear Judges explain the impact that an attorney's presence can have for them—and for a jury. You be the judge as expert litigators disagree on which strategies carry the day.

Agenda

Agenda & Materials

Who Are You? How to Shape Your Courtroom Presence and Professional Image

Always Be Closing: The ABCs of Persuasive Messaging to the Only Audience That Matters

Crossfire: Hear Trial Experts Disagree on the Styles and Strategies That Win … And You Be the Judge

"Ask the Experts" Q&A Session

Special Program Materials:

Please Note

MCLE webcasts are delivered completely online, underscoring their convenience and appeal. There are no published print materials. All written materials are available electronically only. They are posted 24 hours prior to the program and can be accessed, downloaded, or printed from your computer.

Faculty

Pricing

Fees

$220.50 - MCLE Sponsor Member
$183.75 - New Lawyer
$183.75 - Pending Admittee
$183.75 - Law Student
$183.75 - Paralegal
$245.00 - All Others

Available FREE with an MCLE OnlinePass® subscription.
TOP