Things to Do Now to Get in Step with the New MA Paid Family & Medical Leave Law: The 60-Minute Lawyer
Are you and your clients prepared for the September 30, 2019 deadline?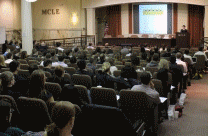 Product Number: 2200197P01
CLE Credits, earn up to:
1 substantive credits, 0 ethics credits

CLE Credit Note

Add to Favorites List
Also Available:

Made to order; please allow up to 2 weeks for delivery.
No supporting materials included.
$125.00; Sponsor Members $112.50; New Lawyers $93.75

On demand video and audio recordings
Available for purchase after Tuesday, 9/24/2019 for instant access to this program.
Product Description
Agenda & Materials
Faculty
Pricing
Product Description

Product Description

In January 2021, most Massachusetts workers become eligible for up to 26 weeks of job-protected paid family and medical leave under the new Massachusetts Paid Family and Medical Leave Law ("PFML"). While benefits under the PFML are not available for well-over a year, employers' obligations to notify workers of their rights under the PFML and withhold contributions to support the trust fund from which PFML benefits will be paid are around the corner. By September 30, 2019, all workers must receive specific notification of their rights and obligations under the law; contributions to the trust fund must begin being withheld from Massachusetts workers on October 1, 2019.

Employers also have additional considerations to adequately prepare for the availability of PFML benefits in 2021. Knowing and understanding the law's requirements and your clients' obligations is critical. Get tips on advising your clients as well as practical insights into how the law affects the workplace. Hear the expert faculty guide you through highlights of the PFML and key issues to consider about its implementation.

Agenda

Agenda & Materials

12:00 - 12:30 pm

Overview of the Law: Including Eligibility and Coverage; Qualifying Uses for Leave; Payment of Benefits; and Maximum Leave Entitlements; Employer Notice, Posting, and Reporting Obligations; Interactions with Other Leave Laws; The PFML's Anti-Retaliation Provisions

12:30 - 12:40 pm

Strategies for PFML Implementation and Practical Considerations: Employer Perspective

12:40 - 12:50 pm

Strategies for PFML Implementation and Practical Considerations: Executive Office of Labor & Workforce Development Perspective

12:50 - 12:55 pm

12:55 - 1:00 pm

"Ask the Experts" Q&A Session

Panel


Please Note

MCLE webcasts are delivered completely online, underscoring their convenience and appeal. There are no published print materials. All written materials are available electronically only. They are posted 24 hours prior to the program and can be accessed, downloaded, or printed from your computer.

Faculty

Pricing

Fees

$112.50 - MCLE Sponsor Member
$93.75 - New Lawyer
$93.75 - Pending Admittee
$93.75 - Law Student
$93.75 - Paralegal
$125.00 - All Others
TOP