Massachusetts Case Law
One-stop authority for your PI practice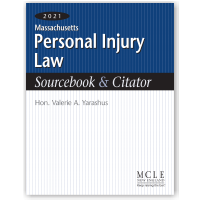 Product Number: 2214240WCH
Publication Date: 5/24/2021
Copyright: © 2021 MCLE, Inc.

Add to Favorites List
All chapters and exhibits from Massachusetts Case Law may be purchased individually. Expand the Table of Contents below to see all option.
Also Available:

See Table of Contents below to purchase individual chapters (including all chapter exhibits) from this book.
Price per chapter: $50.00; Sponsor Members $45.00; New Lawyers $25.00
Free for OnlinePass subscribers.
Product Description
Table of Contents
Editors & Authors
Product Description

Product Description

MCLE's Massachusetts Personal Injury Law Sourcebook & Citator organizes a wide body of frequently needed information into a handy resource. This single softbound volume holds an extensive digest of personal injury cases along with annotated statutory provisions, procedural rules, selected CMR provisions, medical information, and other general reference materials. Purchasers of the print edition may download the book's entire contents for enhanced search capability and access.

Recent updates:

Update: May 2021

Dear Subscriber:

Thank you for updating your reference library with the 2021 edition of the Massachusetts Personal Injury Law Sourcebook & Citator . This updated product—which may be downloaded for enhanced search capability and access—brings the latest in personal injury law within your immediate reach.

Highlights from the many developments reflected in this edition include

numerous amendments to court rules and orders, including

revisions to the Local Rules of the U.S. District Court for the District of Massachusetts and an updated fee schedule for District Court filings;

revisions to the medical malpractice provisions of the Massachusetts Rules of Civil Procedure;

information on numerous court orders issued in response to the COVID-19 pandemic;

new Superior Court model jury instructions on general negligence and causation; and

amendments to Supreme Judicial Court Rule 1:25—the Massachusetts Rules of Electronic Filing;

various amendments to the Massachusetts General Laws, including provisions on operating under the influence and prescription opioids litigation;

legislation to provide liability protections for health-care workers and facilities during the COVID-19 pandemic; and

numerous updated entries in the publication's case digest, along with a new section discussing the causation issues addressed in Doull v. Foster, 487 Mass. 1 (2021).

The 2021 edition also updates a number of other useful practice resources, including a schedule of holidays and observances through 2023 and selected statistical data.

Thank you for your continued support, as we at MCLE strive to bring you the latest solutions to the issues you face in your practice.

Very truly yours,

John M. Lawlor, Esq., MCLE Publications Attorney

Table of Contents

Table of Contents

expand all

Editors & Authors
TOP