Checklist for Family Business Succession Planning
Closely held business corporate exit strategies, estate planning, fiduciary considerations, and prevention of family disputes in the event of the principal's diminishing capacity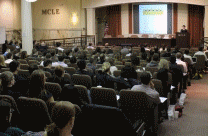 Product Number: 2220105P01
CLE Credits, earn up to:
1 substantive credits, 0 ethics credits

CLE Credit Note

Add to Favorites List

Remind Me Later

ⓘ

Sign up to receive a reminder one week prior to program.
Interested in Checklist for Family Business Succession Planning but not sure you can make it?
Sign up to receive an automatic reminder one week before the program date.
Email
No Thanks.Submit
Product Description
Agenda & Materials
Faculty
Pricing
Product Description

Product Description


Learn about the particular challenges faced by family-owned or closely held businesses when the principal is no longer willing or able to continue running the business. The faculty discuss best practices for business transition plans, corporate structure, managing family and business dynamics, and planning for the incapacity of the principal.

Agenda

Agenda & Materials

12:00 - 12:02 pm

Welcome and Introduction

12:02 - 12:17 pm

Business Succession, Exit Strategies and Corporate Law

12:17 - 12:32 pm

Estate Planning and Business Succession

12:32 - 12:47 pm

Family and Fiduciary Law: Diminishing Capacity of the Principal, Conservatorship, and Family Asset Disputes

12:47 - 12:57 pm

Roundtable Discussion

Panel


12:57 - 1:00 pm

"Ask the Experts" Q&A Session and Key Takeaways

Panel


Please Note

MCLE webcasts are delivered completely online, underscoring their convenience and appeal. There are no published print materials. All written materials are available electronically only. They are posted 24 hours prior to the program and can be accessed, downloaded, or printed from your computer.

Faculty

Pricing

Fees

$130.50 - MCLE Sponsor Member
$108.75 - New Lawyer
$108.75 - Pending Admittee
$108.75 - Law Student
$108.75 - Paralegal
$145.00 - All Others

To apply for a need-based scholarship for this program, email

scholarships@mcle.org

.
TOP