Employment Law for Business Lawyers & In-House Counsel
Staying compliant and avoiding claims in a constantly-changing legal landscape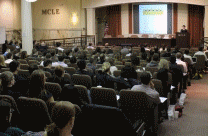 Product Number: 2220108P01
CLE Credits, earn up to:
3 substantive credits, 0 ethics credits

CLE Credit Note

Add to Favorites List
Product Description
Agenda & Materials
Faculty
Pricing
Product Description

Product Description


Business lawyers and in-house counsel often find themselves providing advice on labor and employment matters, preparing employment-related documents, and managing employment-related litigation. While the best course might be to hire a labor and employment law specialist, your client might not always have that option. You must be prepared to spot issues and provide fast, practical advice. This program helps you gain the knowledge to assist your business clients in avoiding employment law liability, staying compliant, and effectively managing and defending employment claims in a rapidly-changing legal landscape.

Agenda

Agenda & Materials

9:00 - 9:05 pm

Welcome and Introduction

9:05 - 9:55 am

Navigating the Challenges of an Increasingly Remote Workforce, Including Impact upon Employee Policies, Wage and Hour Requirements, Discipline, Trade Secret Protection, Recruitment, and Data Security

9:55 - 10:35 am

Winding Down COVID-19 in the Workplace, Including Lingering Vaccination and Testing Considerations

10:35 - 11:05 am

The Latest in Noncompetition and Trade Secret Law, Including Discussion of the First Case to Meaningfully Interpret the 2018 Massachusetts Noncompetition Agreement Act, and Strategies to Prepare for Legislative and Executive Efforts to Limit Noncompetes

11:05 - 11:40 am

Recent Developments in Discrimination and Wage & Hour Law

11:40 - 12:20 pm

A Plaintiff-Side Lawyer's Perspective: Impact of COVID-19 and Remote Work on Employee Claims

12:20 - 12:30 pm

"Ask the Experts" Q&A Session and Key Takeaways

Panel


Please Note

MCLE webcasts are delivered completely online, underscoring their convenience and appeal. There are no published print materials. All written materials are available electronically only. They are posted 24 hours prior to the program and can be accessed, downloaded, or printed from your computer.

Faculty

Pricing

Fees

$220.50 - MCLE Sponsor Member
$183.75 - New Lawyer
$183.75 - Pending Admittee
$183.75 - Law Student
$183.75 - Paralegal
$245.00 - All Others

To apply for a need-based scholarship for this program, email

scholarships@mcle.org

.
TOP