What to Do with Abandoned Property
Strategies from tax takings to code enforcement actions, condemnation and receiverships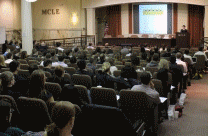 Product Number: 2220121P01
CLE Credits, earn up to:
2 substantive credits, 0 ethics credits

CLE Credit Note

Add to Favorites List

Remind Me Later

ⓘ

Sign up to receive a reminder one week prior to program.
Interested in What to Do with Abandoned Property but not sure you can make it?
Sign up to receive an automatic reminder one week before the program date.
Email
No Thanks.Submit
Product Description
Agenda & Materials
Faculty
Pricing
Product Description

Product Description


The COVID-19 pandemic and consequently impacted economy can result in increased neighborhood blight from neglected and abandoned property. This program updates municipal officers, solicitors, and nonprofit agencies on how to employ various strategies to address this problem, including tax takings, code enforcement actions, and receiverships.

Agenda

Agenda & Materials

Developing Strategies for Dealing with Neglected and Abandoned Property for Municipalities

Early warning signs; Prevention and steps to collect information for all property in a municipality

Tips for Deciding Which Strategies to Use

Creating a Housing Receivership That Complies with Statutory and Constitutional Requirements

Undertaking investigative steps prior to seeking appointment of receiver; Documenting conditions that support appointment of a receiver; Petitioning to enforce the state sanitary code and for appointment of a receiver

Who Can or Should Be the Receiver and How to Become One

Receivership Proceedings

Common issues, including establishing the receiver's budget; Petition to borrow money to make repairs; Owner's petition to stay receivership; Receiver's reporting requirements; Potential civil contempt proceedings

Accessing Legal and Financial Resources to Effectively Operate and Manage a Successful Receivership

What a Property Owner Can Do to Contest the Receivership

How to Terminate Receivership and Foreclosure of the Receiver's Lien

Strategies for Property Disposition and Reuse

Where to Turn for Assistance, Forms and Templates

Please Note

MCLE webcasts are delivered completely online, underscoring their convenience and appeal. There are no published print materials. All written materials are available electronically only. They are posted 24 hours prior to the program and can be accessed, downloaded, or printed from your computer.

Faculty

Pricing

Fees

$130.50 - MCLE Sponsor Member
$108.75 - New Lawyer
$108.75 - Pending Admittee
$108.75 - Law Student
$108.75 - Paralegal
$145.00 - All Others

To apply for a need-based scholarship for this program, email

scholarships@mcle.org

.
TOP