Representing Asylum Seekers
Navigating the arduous and tortuous road to a safe haven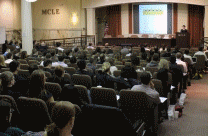 Product Number: 2220174P01
CLE Credits, earn up to:
4 substantive credits, 0 ethics credits

CLE Credit Note

Add to Favorites List

Remind Me Later

ⓘ

Sign up to receive a reminder one week prior to program.
Interested in Representing Asylum Seekers but not sure you can make it?
Sign up to receive an automatic reminder one week before the program date.
Email
No Thanks.Submit
Product Description
Agenda & Materials
Faculty
Pricing
Product Description

Product Description


Political activists, Afghan citizens who supported the U.S. military and internal NGOs who fled the Taliban, women and children fleeing familial violence and entering the U.S. on the southern U.S. border, and LGBTQ+ persons escaping draconian laws that punish sexual orientation—there are many reasons for asking for legal protection in the United States. The needs of brave asylum seekers are often highly complex, and they may require a wide-range of legal services.

This program provides an orientation to immigration law that is useful for lawyers who are interested in developing an immigration practice and for anyone who wants to effectively represent an asylum seeker in an immigration case. The faculty includes the director of the asylum office, experienced practitioners from the private bar, a doctor specializing in trauma, and knowledgeable attorneys from the private sector and legal services organizations. These experts teach you how to prepare an asylum application under the immigration law, how the law defines past persecution, where to file an asylum case, and how to comply with court and administrative procedures. They explain how to work with your client to build the strongest possible case and how to avoid common pitfalls like an adverse credibility finding.

Political Asylum/Immigration Representation (PAIR) Project
PAIR coordinates a panel of over 600 volunteer attorneys representing asylum seekers. Other organizations in Boston also rely on volunteer attorneys. If you are willing to join a legal services pro bono/volunteer lawyers panel and accept one case within the next year, your reduced tuition is $65. After the program, MCLE will forward your name to the cosponsoring organization, and you will be contacted regarding your panel assignment.

Agenda

Agenda & Materials

Law and Basis for Seeking Asylum and Theories of the Case

A Guide to Asylum Practice and Procedure

Special Populations in Asylum Law

Interviewing the Client, Client Credibility, and Documenting the Claim

Insights on Using Medical and Psychological Evaluations

Procedure After Winning Asylum

Techniques and Deadlines When Filing an Appeal

"Ask the Experts" Q&A Session and Key Takeaways

Please Note

MCLE webcasts are delivered completely online, underscoring their convenience and appeal. There are no published print materials. All written materials are available electronically only. They are posted 24 hours prior to the program and can be accessed, downloaded, or printed from your computer.

Faculty

Pricing

Fees

$112.50 - MCLE Sponsor Member
$93.75 - New Lawyer
$93.75 - Pending Admittee
$93.75 - Law Student
$93.75 - Paralegal
$125.00 - All Others

To apply for a need-based scholarship for this program, email

scholarships@mcle.org

.
TOP