Snapshot of Digital Currency Law
Types of digital currencies, how they are regulated domestically and abroad, and inherent intellectual property, privacy, security and liability risks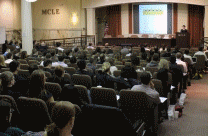 Product Number: 2230002P01
CLE Credits, earn up to:
1 substantive credits, 0 ethics credits

CLE Credit Note

Add to Favorites List

Remind Me Later

ⓘ

Sign up to receive a reminder one week prior to program.
Interested in Snapshot of Digital Currency Law but not sure you can make it?
Sign up to receive an automatic reminder one week before the program date.
Email
No Thanks.Submit
Product Description
Agenda & Materials
Faculty
Pricing
Product Description

Product Description


What is the law around digital currency? The increasing creation and use of an array of digital currencies—including cryptocurrencies, virtual currencies, and central bank digital currencies—raise novel and complex questions regarding regulation and intellectual property. Businesses interested in digital currencies need to understand where the greatest risks arise, and where regulators such as the SEC are likely to act. This new program gives you an overview of the avant-garde, dynamic, and fluid space of digital currency law.

Agenda

Agenda & Materials

What Is Digital Currency?

How Is Digital Currency Currently Regulated in the United States?

How Are Foreign Jurisdiction Attempting to Regulate This Space?

Intellectual Property, Privacy, and Security Concerns Raised by Digital Currency

Liability Risks Digital Currencies Present

"Ask the Experts" Q&A Session

Please Note

MCLE webcasts are delivered completely online, underscoring their convenience and appeal. There are no published print materials. All written materials are available electronically only. They are posted 24 hours prior to the program and can be accessed, downloaded, or printed from your computer.

Faculty

Pricing

Fees

$130.50 - MCLE Sponsor Member
$72.50 - New Lawyer
$72.50 - Pending Admittee
$72.50 - Law Student
$72.50 - Paralegal
$145.00 - All Others

To apply for a need-based scholarship for this program, email

scholarships@mcle.org

.
TOP