MANDATORY Probate & Family Court Category E & Category F Training to Remain on Fee-Generating List for 2023
Gain valuable insights into how to make your next Category E or F appointment better, more effective, and more valuable to the parties, attorneys and court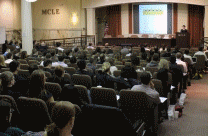 Product Number: 2230062P01
CLE Credits, earn up to:
4 substantive credits, 0 ethics credits

CLE Credit Note

Add to Favorites List

Remind Me Later

ⓘ

Sign up to receive a reminder one week prior to program.
Interested in MANDATORY Probate & Family Court Category E & Category F Training to Remain on Fee-Generating List for 2023 but not sure you can make it?
Sign up to receive an automatic reminder one week before the program date.
Email
No Thanks.Submit
Product Description
Agenda & Materials
Faculty
Pricing
Product Description

Product Description


This program presents an essential analysis and in-depth discussion of the many components inherent in Category E & F guardian ad litem appointments and their practical applications for guardians ad litem and attorneys, including how to interpret the order of appointment; what type of intake/questionnaire forms could or should be used; how bias can play a role throughout a GAL appointment; what makes a useful GAL report; and waiver of privilege from the view of the guardian and the view of the Category E/F GAL. Practice tips are offered by seasoned Category E and F GALs and Probate and Family Court Judges and staff. A representative from the Administrative Office of the Probate and Family Court (AOPFC) will answer the most frequently asked questions from guardians ad litem.

For Current Category E and Category F List Members: If you are currently on the Probate and Family Court's Category E or Category F Fee-Generating Appointment List, you are required to take the yearly CLE as set forth by the AOPFC. The live webcast, the recorded webcast, and the on-demand webcast of this program all fulfill the requirement to remain on the list for 2023, as long as you complete the required prompts and submit the required documentation to pandf.feegenerating@jud.state.ma.us.

Note: To obtain continuing education credits to meet your requirements to stay on the Category E or Category F list for 2023, you must choose the "Prompts" option when you click the link to begin the live webcast, the recorded webcast, and the on-demand webcast and click all prompts as they appear during the program.

Agenda

Agenda & Materials

How to Use Intake/Questionnaire Forms as a GAL

What Makes a Useful GAL Report?

Waiver/Assertion of Privilege in the Probate and Family Court

"Ask the Experts" Q&A Session

Please Note

MCLE webcasts are delivered completely online, underscoring their convenience and appeal. There are no published print materials. All written materials are available electronically only. They are posted 24 hours prior to the program and can be accessed, downloaded, or printed from your computer.

Faculty

Pricing

Fees

$148.50 - MCLE Sponsor Member
$82.50 - New Lawyer
$82.50 - Pending Admittee
$82.50 - Law Student
$82.50 - Paralegal
$165.00 - All Others

To apply for a need-based scholarship for this program, email

scholarships@mcle.org

.
TOP