Negotiating, Substantiating & Codifying Alimony Agreements
Alimony guidance with guidelines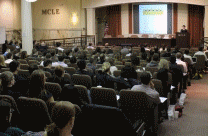 Product Number: 2230064P01
CLE Credits, earn up to:
3 substantive credits, 0.5 ethics credits

CLE Credit Note

Add to Favorites List

Remind Me Later

ⓘ

Sign up to receive a reminder one week prior to program.
Interested in Negotiating, Substantiating & Codifying Alimony Agreements but not sure you can make it?
Sign up to receive an automatic reminder one week before the program date.
Email
No Thanks.Submit
Product Description
Agenda & Materials
Faculty
Pricing
Product Description

Product Description


Alimony and support can be a difficult or confusing concept for clients. Practitioners are often asked if a client should waive it, pay it monthly, buyout for a lump sum, or use other assets? Who is entitled to receive support and what if the parties have children?

This seminar provides both new and experienced practitioners with what you need to know about alimony. How do the Child Support Guidelines revisions affect alimony? How have the alimony percentage ranges changed due to the Tax Cuts and Jobs Act? How should alimony be handled in prenuptial or postnuptial agreements? This experienced panel dives deep into these and other issues related to alimony. Gain a better understanding of the steps you must take to protect your client.

Don't miss this opportunity to advance your skills in this critical area of family law practice!

Agenda

Agenda & Materials

Alimony Percentages in Light of the Tax Cuts and Jobs Act of 2017

Alimony in Prenuptial and Postnuptial Agreements

Alimony Buyouts and Unequal Asset Division

Alimony and Child Support

Alimony and Asset Division

"Ask the Experts" Q&A Session

Please Note

MCLE webcasts are delivered completely online, underscoring their convenience and appeal. There are no published print materials. All written materials are available electronically only. They are posted 24 hours prior to the program and can be accessed, downloaded, or printed from your computer.

Faculty

Pricing

Fees

$175.50 - MCLE Sponsor Member
$97.50 - New Lawyer
$97.50 - Pending Admittee
$97.50 - Law Student
$97.50 - Paralegal
$195.00 - All Others

To apply for a need-based scholarship for this program, email

scholarships@mcle.org

.
TOP