Application of the 2021 Child Support Guidelines - One Year Later
Answers and approaches to the challenging child support questions that developed from actual cases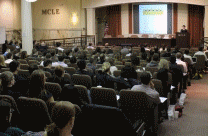 Product Number: 2230067P01
CLE Credits, earn up to:
3 substantive credits, 0 ethics credits

CLE Credit Note

Add to Favorites List
Product Description
Agenda & Materials
Faculty
Pricing
Product Description

Product Description


The 2021 Massachusetts Child Support Guidelines became effective on October 4, 2021. As practitioners and jurists have begun using them in actual cases, issues and questions have arisen about their application. Some are not addressed in the text of the Guidelines and others are subject to interpretation and debate. There can be confusion about which approach to employ in any given case, particularly in high income cases or those which present issues of both child support and alimony. How to get to the "right" child support number is often a challenge, demanding effective advocacy from family law practitioners.

The major changes effectuated by the 2021 Guidelines are reviewed in this fast-paced seminar. A panel of seasoned family law practitioners and members of the 2021 Child Support Guidelines Task Force identify and discuss hot topics concerning the Guidelines' application. You have the opportunity to pose questions to gain valuable insight on how to navigate challenging child support issues.

Agenda

Agenda & Materials

2:00 pm - 2:05 pm

2:05 pm - 2:20 pm

Recap of the Major Changes to the Guidelines and Child Support Worksheet

2:20 pm - 2:25 pm

How Parenting Schedules Affect the Application of the Child Support Formulas

2:25 pm - 3:10 pm

Calculating Support – The Intersection of Child Support and Alimony

3:10 pm - 3:20 pm

Effectively Advocating for and Against an Award of Unallocated Support

3:20 pm - 3:35 pm

3:35 pm - 3:45 pm

Understanding Awards of Support Utilizing "Excess Income"

3:45 pm - 3:55 pm

When Is Deviation Appropriate?

3:55 pm - 4:05 pm

Arguments For and Against the Exercise of Discretion

4:05 pm - 4:15 pm

Are There Cases in Which an Award of Child Support Is Not Appropriate?

4:15 pm - 4:45 pm

4:45 pm - 5:00 pm

"Ask the Experts" Q&A Session

Panel


Please Note

MCLE webcasts are delivered completely online, underscoring their convenience and appeal. There are no published print materials. All written materials are available electronically only. They are posted 24 hours prior to the program and can be accessed, downloaded, or printed from your computer.

Faculty

Pricing

Fees

$175.50 - MCLE Sponsor Member
$97.50 - New Lawyer
$97.50 - Pending Admittee
$97.50 - Law Student
$97.50 - Paralegal
$195.00 - All Others

To apply for a need-based scholarship for this program, email

scholarships@mcle.org

.
TOP