Dividing Retirement Assets in Divorce
Strategy, tax implications and key language considerations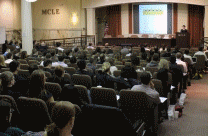 Product Number: 2230068P01
CLE Credits, earn up to:
2 substantive credits, 0 ethics credits

CLE Credit Note

Add to Favorites List

Remind Me Later

ⓘ

Sign up to receive a reminder one week prior to program.
Interested in Dividing Retirement Assets in Divorce but not sure you can make it?
Sign up to receive an automatic reminder one week before the program date.
Email
No Thanks.Submit
Product Description
Agenda & Materials
Faculty
Pricing
Product Description

Product Description


When people think about divorce, they often think about child support and alimony. They consider the house and their bank accounts. They think about their debts and some even consider their children's college tuition. What most forget are what can prove to be one of the biggest assets a couple has—their retirement accounts.

What type of strategy should be employed when negotiating the division of retirement accounts? What are the best ways to deal with the tax implications that arise when splitting the asset? What language should be included in the separation agreement? Join our experts as we examine these questions and more!

Agenda

Agenda & Materials

2:00 pm - 2:05 pm

Welcome and Introduction

Nina D. Bond,

Nina D. Bond , Westborough

Justin L. Kelsey, Esq., Skylark Law & Mediation, PC

, Southborough

Jennifer C. Roman, Esq., Tracey, Roman & Ramos, PC

, Wellesley Hills

2:05 pm - 2:15 pm

Defining DRO and QDRO: the Players, the Plans and the Preparation

Panel


2:15 pm - 2:25 pm

Defined Contribution, Defined Benefit & Other Retirement Plans

Panel


2:25 pm - 2:35 pm

2:35 pm - 2:45 pm

2:45 pm - 2:55 pm

2:55 pm - 3:05 pm

3:05 pm - 3:15 pm

Divisible but not by QDRO or DRO

Panel


3:15 pm - 3:25 pm

3:25 pm - 3:35 pm

Negotiation Checklists

Panel


3:35 pm - 3:45 pm

Follow Through - After the Separation Agreement has been approved

Panel


3:45 pm - 4:00 pm

"Ask the Experts" Q&A Session

Panel


Please Note

MCLE webcasts are delivered completely online, underscoring their convenience and appeal. There are no published print materials. All written materials are available electronically only. They are posted 24 hours prior to the program and can be accessed, downloaded, or printed from your computer.

Faculty

Pricing

Fees

$112.50 - MCLE Sponsor Member
$62.50 - New Lawyer
$62.50 - Pending Admittee
$62.50 - Law Student
$62.50 - Paralegal
$125.00 - All Others

To apply for a need-based scholarship for this program, email

scholarships@mcle.org

.
TOP